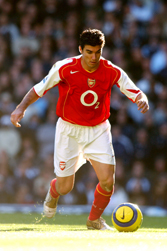 Jose Antonio Reyes has admitted he is happy at Arsenal, although he did reveal that it is his dream to play for Real Madrid.
The 22-year-old told Arsenal's website that he is "very happy" at the club.
But he also told Spanish paper As he is "not looking for another club", but "I have always said that Madrid is one of my biggest targets. Everyone knows it.
"Clubs are looking for me but the only way that any team, including Madrid, can sign me is by speaking to Arsenal."
Reyes' future at Arsenal has been up in the air since he told a Spanish radio presenter – who Reyes thought was Real's sporting director Emilio Butragueno – that he was keen on a move to the Spanish capital.
However, he says that despite missing Spain, he is happy to remain with Arsenal.
"I am very grateful to Arsenal for the faith they have put in me," Reyes told As on Tuesday.
"I don't have any problem with the club. There are Spaniards in the team and that makes everything easier.
"The way of life is a different matter. There are many things I miss about Spain, not just the food and the weather.
"But I am happy and I will carry on training. If I have to stay with Arsenal, I will do so happily.
"Not every player has the chance to play for a club like this, with players of this quality. I have left everything in the hands of my agent."