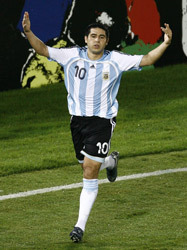 Click here for our full Euro 2008 BestPrice match coupon, including England v Israel, Italy v France & Wales v Germany!
Juan Roman Riquelme has announced that he will battle to regain his place in the Villarreal side after returning to the Spanish club.
Boca Juniors made an offer for the Argentinian midfielder during the summer, while Atletico Madrid were also interested in his services – but he has now returned to Villarreal.
"There were possibilities to go elsewhere, but it turned out that some offers were not good for the club and others were not good for me," Riquelme stated.
"Things did not turn out in the best possible way, but my duty now is to comply with the contract that I signed with Villarreal.
"When I returned from my holiday I heard that Villarreal did not count on me.
"I said at that time that if something came up that was good for both parties, then I would be willing to leave.
"But that has not happened as there were not enough interesting offers that we were both keen on.
"I have come back with the same strong desire that I have always had for this club.
"I believe that I showed that I was prepared to leave when they said they did not want me and I was even in a car on the way to Madrid, to talk to Atletico, but it ended up falling through.
"Now all I can do is train hard and work day-by-day and when the team is named every week I will wait and see if I am included.
"I am a footballer and always want to play. I am training as hard as I can."
Riquelme then gave his take on the fall out with Villarreal that forced him to go on loan to Boca Juniors for the second half of the season.
"It was not me that came up with that idea, it was Villarreal that brought it to me and I want to be clear about that," he stated.
"What has happened is that it looks like I tried to make Villarreal let me go back to Boca and that is not the case.
"This sumer everyone knows that Boca made two offers that Villarreal did not feel were sufficient."
Riquelme has not spoken to coach Manuel Pellegrini since returning to training, but he admits that the two of them did not communicate much anyway.
"We did not talk so nothing much has changed," he said.
"I want to say that I have always done my best for the club and will continue doing so now that I am a member of the squad again."
Meanwhile, Boca Juniors president Mauricio Macri does not think the club will be able to afford to sign Riquelme in January when the transfer market re-opens.
"When the transfer window opens again in December we are going to be in the same situation that we have been up until now," admitted Macri.
"The truth is that Villarreal doesn't want Riquelme and he doesn't want to stay at Villarreal but we can't do anything different to what we have been doing.
"Riquelme gets paid too much money in Europe and Boca can't do crazy things. We did a very big effort for bringing him again to Boca but we can't do more than that so it's impossible to have him back in December.
"When we brought him in the first part of this year it was an exception. Now Villarreal wants to sell him and we can't pay what they want. In addition, I think that no team in all of South America can pay what he costs, he has a very expensive contract."
Click here for our full Euro 2008 BestPrice match coupon, including England v Israel, Italy v France & Wales v Germany!