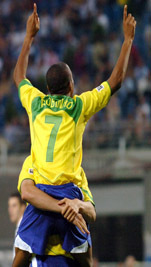 Santos have slapped a $50m price tag on Robinho after the Brazil striker admitted he wanted to join Real Madrid before the start of the new season.
"I hope to play for Real. I have spoken to them. It will be good for my career to go now," he told Brazilian TV after Brazil's 4-1 Confederations Cup win over Argentina in Germany.
Santos president Marcelo Teixeira said Robinho could only go after the 2006 World Cup.
Robinho said he he would return to Brazil to try to persuade Teixeira to allow him to leave.
"It'll be good for the safety of my family as well," said Robinho whose mother was kidnapped and held for 40 days last year before being released.
"Spain is an ideal country for Brazilian players and I know Real coach Wanderley Luxemburgo very well," he said Wednesday.
Luxemburgo steered Santos to the Brazilian crown in 2003.
But Teixeira said all talk about a deal being agreed, was way off the mark.
"They might have financial power but it doesn't mean they can do what they want, when they what," he said.