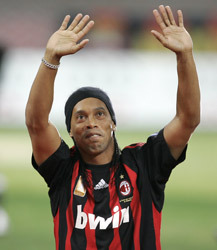 Carling Cup holders Manchester United start their campaign at home to Wolves – see all the best odds here.
Milan coach Leonardo has admitted that he doesn't think that Ronaldinho is not the player he once was.
But he also insisted that the the former World and European Player of the year was still very much part of his plans.
"There's no need to judge Ronaldinho before and after every game. He is a resource like every other player at the club," the Brazilian coach said.
"It's normal to make some changes when you have to play a long way away with only a few days rest.
"It seems to me that Ronaldinho is always under observation. Every performance is analysed and re-analysed.
"He's a Ballon d'Or winner and it's normal that he's analysed but I think there are many factors that have to be taken into consideration.
"He has a public image (as liking to party) and every time something happens it gets blown up. It's also in part his fault, particularly given what happened in the past at Barcelona.
"It's true that he's not the player of three years ago but he has done some good things this year and he will do again."
General manager Adriano Galliani has also spoken about Ronaldinho's situation and insisted he would not be getting special treatment.
"He must become the player he was few years ago. But I don't know what he's missing," Galliani said.
"Ronaldinho is one Milan players, and should coach Leonardo consider him in good condition he will play on Sunday. Otherwise he will sit on the bench, like the others.
"Ronaldinho hasn't a different status in comparison to the other Milan players."
President Silvio Berlusconi also passed judgement on the player.
"Ronaldinho is a resource for this squad, but it is not necessary to give a verdict on him after every game," said Berlusconi.
"I understand he is a Ballon d'Or winner, but there is no need to constantly keep him under observation. In any case, I think when we talk about him, there are many things to keep in mind.
"I have a direct rapport with Ronaldinho and talk about everything, even though I don't consider it opportune to discuss how late he gets in at night. I must concentrate on the aspects of Dinho the player."
Carling Cup holders Manchester United start their campaign at home to Wolves – see all the best odds here.
For more fascinating features, subscribe and save 30% and use the below link?