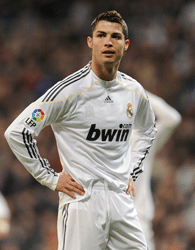 Save up to 33% on a subscription to World Soccer
Real Madrid forward Cristiano Ronaldo claims Barcelona get a lot of 'outside help' and has accused Javier Mascherano of 'cheating'.
The Portuguese winger was unhappy following Real's Champions League exit at the hands of Barca on Tuesday night.
A 1-1 draw at Camp Nou meant Real were knocked out of the competition 3-1 on aggregate and left a sour taste in Ronaldo's mouth.
"We knew we could beat Barca, but the referee didn't let us," said the Portuguese forward.
"Once again it was the referee that didn't allow us to dictate the outcome.
"The referee in the first match (Wolfgang Stark) took away our chances of playing the final. Whoever knows anything about football knows that Barcelona get preferential treatment.
"Barcelona are a difficult team to beat because they get outside help. Next year they should give the cup directly to them."
Real saw a Gonzalo Higuain goal disallowed for an apparent foul by Ronaldo on Barca midfielder Mascherano.
"Javier Mascherano wasn't like this at Liverpool," added the former Manchester United player.
"He must have learned all these cheating tricks at Barcelona."