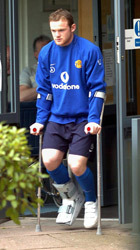 England striker Wayne Rooney is philosophical about his chances of playing in this summer's World Cup finals, sttating that said it would "not be the end of the world" to miss the tournament.
Rooney has broken at least two metatarsal bones in his right foot and is expected to miss out on the World Cup altogether.
Rooney said: "Any player wants to play in the World Cup, but if it's not to be I'll have more tournaments.
"I'm obviously disappointed to get injured when I have done but life goes on and hopefully I can get fit.
"I'm disappointed and everyone is disappointed for me, but I'm a strong lad and I've got support from everybody.
"There's been a lot of stuff all over the TV and in the papers but you've got to blank that out.
"It's nice that people care about you but you've got to concentrate on doing your work and getting yourself right.
Sir Alex Ferguson insisted that Manchester United were keen for the striker to play in the finals.
"We want Wayne Rooney to play at the World Cup, there's no question of that," said the United manager.
"It enhances the reputation of the football club and if he's going to be a star of the World Cup then we will reap the rewards from that.
"We'll do our best to get the boy there, but I felt the wrong message was getting out about the possibility of him playing in the World Cup.
"The thing we tried to do was dampen the enthusiasm a bit."
Subscribe to World Soccer – The essential football magazine.