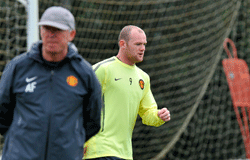 Speculation about Wayne Rooney's future continues to mount – where will he be after the January window? Get the latest betting at easyodds.com.
Sir Alex Ferguson has confirmed that striker Wayne Rooney wants to leave Manchester United.
The Old Trafford manager admitted he was "shocked" and "disappointed" to hear the news but claimed he had not fallen out with the England international.
Rooney's contract with the Premier League outfit is due to end at the end of the 2011-12 season and rather than risk losing him for nothing in 18 months time, United will now contemplate selling the player. Manchester City and Chelsea have both been linked with the England international.
"We are as bemused as anyone can be, we can't quite understand why he would want to leave," Ferguson told a news conference.
Rooney's future has been the subject of intense speculation over the last few days following reports that the England striker was not prepared to sign a new contract.
In an interview with MUTV filmed before he spoke to the media, Ferguson said Manchester United chief executive David Gill had told him about Rooney's decision not to sign a new deal back in the summer.
"I was in the office on 14 August and David phoned me to say he (Rooney) wasn't signing a contract," said Ferguson.
"I was dumbfounded. Only months before he was saying he was at the greatest club in the world.
"I asked to have a meeting with the boy. He reiterated what his agent said, that he wanted to go."
Having learned of Rooney's desire to go, Ferguson requested to speak to the player.
"Dealing with the next step was always going to be decisive for us, how we dealt with the situation," he said.
"I asked to have a meeting with the boy and he reiterated what his agent said, that he wanted to go.
"The one thing I said to him was 'respect this club, I don't want any nonsense from you'.
"I don't know if he has done that. I have doubts on that, we are reading all these things about falling out with me and all that nonsense.
"It's disappointing because we have done everything we possibly can to help Wayne Rooney ever since he came to the club.
"We have always been here as a harbour for him any time he has been in trouble, the advice we have given him. I was even prepared to give him financial advice.
"But it's not just Wayne Rooney, we have done that for all the players. Wayne has been the beneficiary of that, just as Ryan Giggs, Paul Scholes have… so there has been no falling out.
"So there we are, we have got into a situation where we had to clarify this for our fans because what we saw on Saturday was unacceptable.
"When we got to 2-2 [against West Brom] and they were chanting Wayne Rooney, it's a pressure on the players and didn't do the team any good so we had to clarify the situation and put it right."
"We've done nothing but help him since he's been at this club," said Ferguson, who has not given up hope of Rooney remaining at Old Trafford.
"I feel that we still have to keep the door open for him, especially as he's such a good player," stated Ferguson.
Injury mystery
It is claimed that the England international feels frozen out by Ferguson, having been omitted from games he believes he was fit enough to play in – with United claiming that he was nursing an ankle knock.
Rooney admitted that Ferguson had misled the media by claiming the striker was unfit for United duty.
The United boss is said to have been angered at seeing his authority undermined and reports claim the pair have not spoken since.
"The area has created quite a lot of the mystery about it as far as we're concerned – and probably you yourself, although you'll know more than I do – has been his injury," Ferguson said in response to questions about Rooney's fitness.
"First of all, I must tell you that I have not had an argument with Wayne Rooney at all at any time. He got an ankle injury in the Rangers game, and was seen clearly hobbling about before half-time. He actually confirmed it himself in the interview with Sky.
"I spoke to him before the Sunderland game and our planning, based on the fact he wasn't playing that well, was to leave him out of the Sunderland game, make sure his ankle was properly prepared for the next game. Ten-day rest, ten-day recovery, so he could play for England (against Montenegro).
"The hope was, playing for England at Wembley, he could recapture his form and we could kick on. His entrance to the mixed-zone at Wembley [when Rooney told journalists he had not been injured] has created that next stage, which we've had to deal with.
"I was disappointed because we know fine and well he was carrying an injury. We sent him for a scan on the ankle injury – nothing serious, but it needed treatment and he's had treatment.
Manchester United are due to face Bursaspor in the Champions League on Wednesday but Rooney will not be involved after being stretchered off at the end of training on Tuesday.
Speculation about Wayne Rooney's future continues to mount – where will he be after the January window? Get the latest betting at easyodds.com.
Make sure you don't miss any of the last news and articles from World Soccer. Subscribe to World Soccer today and take advantage of our all 50th anniversary offer, saving up to 50%!