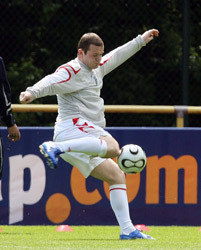 With the World Cup in full flow click here to see the latest odds on every match.
England coach Sven-Goran Eriksson has admitted that he publicly announced Wayne Rooney's return to the England starting line-up to strike fear into Sweden before tonight's meeting.
Eriksson, who usually does not name his team until just before kick-off, reveal Rooney would return in place of Peter Crouch in the Group B tie in Cologne.
"The opponents don't want to hear that Rooney is starting," said Eriksson. "He's on fire in training, tackling all over.
"His desire to do well in the World Cup is enormous. It's important for England he plays – for the squad and fans."
Rooney replaces Crouch because the Liverpool striker is only one booking away from a suspension.
"The fans want to see Wayne Rooney playing," added Eriksson.
"Tottenham, Chelsea and Everton fans want to see Wayne Rooney playing. Even Manchester City fans want to see Wayne Rooney playing for England.
"When you talk about Wayne Rooney, nothing surprises me.
"Even at the end of our training session when we are taking free-kicks, he wants to stay in goal – although he wasn't allowed to."
But Eriksson did admit that supporters should not expect too much from Rooney tonight.
"I don't think we should expect too much against Sweden," added the Swede. "Don't expect him to be the 100% Wayne Rooney and resolve everything by himself.
"I expect him to get better and what he needs is matches. The touches, the combinations and the timing are what you lose when you don't play football.
"I expect Owen and Rooney to play like they used to, in the golden days," added Eriksson.
"They always play well together. I suppose it will be easier for Michael against Sweden.
"His partner is Rooney so he can stay up front more and Wayne can be the linking player between him and the midfield.
"All strikers need goals, the confidence of a striker when they score is right up there and it's the opposite when they don't."
Eriksson's admiration for Rooney was shared by Swedish striker Henrik Larsson.
"He is an amazing talent but whether he plays or not we know it will be tough," said Larsson. "Rooney will make the team stronger, but he would make any team better, even Brazil.
"I think he has the ability to be the best player in the world. He hasn't proved it yet, but he can be that good. He is like Ronaldinho. There is no way you can mark him out of a game when he is in form. Fortunately for us he has been injured for a long time so I don't know if we will see Rooney at his best, but at even 60 or 70% he is still a great player."
With the World Cup in full flow click here to see the latest odds on every match.