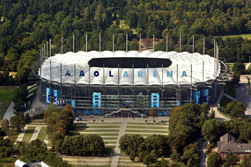 Hamburg may be dropped as a 2006 World Cup venue unless it removes a corporate sponsor's name that has been part of its stadium name for the last five years, according to German newspaper Bild.
The newspaper said that FIFA general secretary Urs Linsi had warned Germany's tournament organising committee that Hamburg must drop the name of internet provider AOL – who are not one of the official World Cup sponsors – from the stadium's name or risk losing World Cup matches.
Organising committee vice-president Horst R. Schmidt said: "We are discussing the matter with FIFA. The sponsors of Hamburg have placed adverts in various newspapers where they say the arena can be used with the brand name of the sponsor.
"We are discussing this with the Hamburg council and FIFA and we hope this can be resolved in the best interests of everybody."
A spokesman for the Hamburg SV Bundesliga team, Joern Wolf said: "We're in talks with AOL and FIFA and assume that we'll have a solution by the weekend. In my view, Hamburg as a venue for the World Cup is not in any danger."
Bild claimed that Linsi had written a letter to Schmidt demanding an immediate stop to using the corporation's name on the stadium.
"We have to once again request that you send us a written explanation" about immediately curtailing all AOL advertising activities in connection with the World Cup, Bild quoted from a letter written by Linsi to the World Cup organising committee.
"Otherwise we will have to take the matter up with the FIFA executive committee, together with a proposal to make a decision on whether to keep Hamburg as a venue for the FIFA World Cup in 2006," Linsi was quoted as writing.
Four World Cup group matches and one quarter-final are scheduled to take place in the Hamburg stadium.