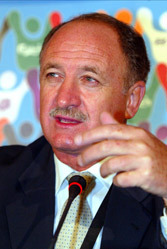 Portugal coach Luiz Felipe Scolari has admitted he has had talks with the Football Association about replacing Sven-Goran Eriksson as England coach.
Scolari says it was an "informal" chat with the Portuguese FA's consent but insists no deal has been agreed.
"The coach has still not been chosen," Scolari told the website of Portuguese newspaper Diario de Noticias.
"There are four or five names and in seven or 15 days it will be settled. My situation with Portugal is the same."
It is believed Scolari and FA chief executive Brian Barwick have an agreement in principle for Scolari to take the job but details have yet to be finalised.
The Brazilian's contract with Portugal expires on 31 July and he has a gentleman's agreement not to commit himself to another job until his current deal runs out.
"An agreement is a very different thing to having a meeting. I can meet a person on a dance floor," added Scolari.
"It is absurd to think like this. I am a professional and I am going to respect my contract until 31 July, this is the agreement I have and what I am going to do.
"Talk is one thing, managing training sessions is another. It is a very different subject."
Scolari said he had to think over his options with his contract expiring soon and had had a host of offers already.
"It was a simple talk, informal and with the consent of the Portuguese Football Federation, and up until 31 July no-one knows what is going to happen," he said.
"The FA is checking out names and one of them is mine. I have to be happy with being remembered. But I don't have an agreement except with Portugal.
"The job, the work situation, technical conditions were talked about.
"But I don't have just this offer. I've got other teams, national sides and clubs. That's the life of a professional. I always honour my contracts.
"I've already had proposals from Real Madrid and Barcelona that I said no to, and that I'd only talk after the end of the contract. No one is guaranteeing that I'll stay in Portugal.
"And you ask, what if we lost in the first round of the World Cup? Would there be anyone that would like it if I stayed in Portugal? No.
"I must listen to all proposals because my contract finishes in July and it is normal for a manager to do this."
Scolari was also quoted as saying Barwick had offered him a seven-year contract.
"He laid out contracts for five and seven years on the table," Scolari was reported as telling The Times.
"The official said, 'We should speak English'. I said 'Speak what you want.'
"I didn't speak Arabian in Arabia, but I am learning English."
Subscribe to World Soccer – The essential football magazine.