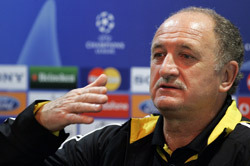 The Premier League is back this weekend and easyodds have the best betting on EVERY fixture here…
Luiz Felipe Scolari has revealed he asked Chelsea owner Roman Abramovich to offload Didier Drogba because the striker was a disruptive influence in the squad.
Appointed in summer 2008 Scolari enjoyed a bright start to his Chelsea tenure, but after results deteriorated he was sacked in February 2009.
Rumours emerged at the time that he had lost control of the dressing room and Scolari has admitted he found it tough to keep certain players in line.
"My exit from Chelsea was sad because the Premier League is a wonderful competition and a sensational venue to work," Scolari told TB Arena Sport TV. "I was very depressed after my exit and for two months I didn't want to even talk about football.
"In the dressing room at Chelsea, there were many big stars and good players, but their behaviour was very different.
"I didn't leave Chelsea because of sabotage from the players, but it is true that it was difficult to control the dressing room. Drogba believed he was the star in the squad and I did have conflicts with him. He wanted to go to a hospital in Paris because of an injury, but I said no.
"That was my first problem because Anelka did well in his absence and scored many goals. When Drogba came back, he wanted to go straight back into the team but I said no."
He added: "I also wanted Abramovich to change Drogba for Adriano at Inter, because it was easier to control him than Drogba."
Scolari also revealed that Michael Ballack caused problems after Deco was signed from Barcelona.
"Ballack wanted to be one of the owners of the dressing room and the relationship with the German was not easy," Scolari said. "He seemed jealous of Deco, did not want his arrival and I had to explain that I was the coach and it was up to me.
"I wanted Deco to work it out with Ballack, but it wasn't possible. They didn't speak to each other."
The Premier League is back this weekend and easyodds have the best betting on EVERY fixture here…