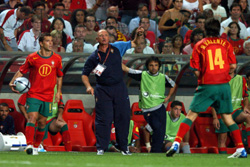 Luis Felipe Scolari has admitted that he was approached by Real Madrid before they opted to appoint fellow Brazilian Wanderley Luxemburgo.
Scolari coaches Portugal national side, and said that he could not consider the Real job at the time.
"I had some conversations with people linked with Real Madrid when I went to Switzerland," revealed Scolari.
"I refused their offer because I am already linked to another project.
"On the other hand, I am very happy that they finally reached an agreement with Wanderley because he deserved something like this.
"You can see how well Real Madrid are playing now."
Scolari has not given up hope of returning to coach in his native Brazil.
"I don't know if I will return imminently or in a few years," said Scolari.
"Everyone seems to think it will be along time away, but it could be sooner because I have everything organised in my work.
"I am very happy and comfortable in Portugal, but I would like to work in Brazil again and I am sure that is going to happen at some point."