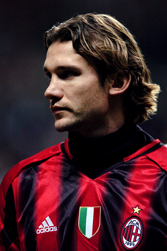 Milan striker Andrii Shevchenko has been voted this year's European Footballer of the Year.
"I'm happy and proud to receive this reward, which is one of the most important in the world," he said.
"I want to dedicate this trophy to my people. I'm Ukrainian and I'm proud of it."
The coveted Ballon D'Or goes to the Milan striker, after he edged out Portuguese playmaker Deco and his Barcelona colleague Ronaldinho.
"When I started playing football I dreamt to become a big player and to win a prestigious award like this," added the Ukraine striker.
"I'm really happy. I feel myself a more complete and experienced player. But the most important thing is that I have learnt about winning."
Shevchenko was full of praise for his manager Carlo Ancelotti.
"With Carlo Ancelotti I have won and I become a winner," he said.
"Our coach is different in comparison to all the others with which I worked.
"He gives me a big tranquillity, he listens to you.
"With him you can talk as a former player in addition to as a coach –  he is well prepared."
The 28-year-old has scored 102 goals in Serie A over the last six seasons, helping Milan win the Champions League in 2003 and the Italian title in 2004.
Shevchenko received 175 points, Portugal's Deco got 139, and Brazil's Ronaldinho 133. France's Thierry Henry was fourth with 80 votes, followed by Greece's Theodoros Zagorakis.
Final Standings
1) Shevchenko 175 votes;
2) Deco 139;
3) Ronaldinho 133;
4) Thierry Henry 80;
5) Zagorakis 44;
6) Adriano 27;
7) Nedved 23;
8) Rooney 22;
9=) Ricardo Carvalho, Van Nistelrooy 18;
11) Charisteas 15;
12=) Milan Baros, Cristiano Ronaldo 11;
14) Ibrahimovic 8;
15=) Eto'o, Kakà 7;
17=) Buffon, Dellas, Drogba, Lampard, Morientes 5;
22) Figo 4;
23) Zidane 3;
24=) Baraja, Giuly, Maniche, Nikopolidis 2;
28=) Maldini, Vicente 1.