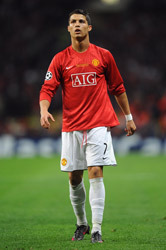 Premier League Fixtures – The start of the new Premier League season might still be a while off, but the fixtures are already out and we've got all the early match betting – Aug 16th
Wesley Sneijder has questioned the wisdom of Real Madrid signing Cristiano Ronaldo, arguing that the arrival of the Portuguese winger might unsettle the rest of the squad.
Ronaldo has been linked with a world record move to Madrid and Sneijder believes that some members of the Spanish champions' squad would not be happy to be earning less than a new arrival.
"The truth is that could happen a bit. It would be bad for the squad if one player had a much higher salary than the rest," he said in an extensive interview with AS.
"It would not matter to me, but I know that there are other players that would not like that.
"But I do not want to say much because every day there is different news. Cristiano is a great player with incredible quality and if he joins Madrid then he will be welcomed.
"We cannot comment on it now because to speak highly of him would be slightly disrespectful to the players that are already here and have shown their class.
"There are already similar players to him here, like (Arjen) Robben and Robinho. It is clear that he would be a useful acquisition, but also maintaining the stability within the squad is important.
"I do not think that Madrid need to sign anyone. In the final games of last season we were very solid and the team showed it has grown a lot. Maybe the only thing we do need is to sign a forward.
"This squad is strong and next term we will become even better. But I suppose that if you bring in a player with great quality it could be good for the team."
Sneijder is also keen to see Robinho remain at the club and believes that there is liuttle to choose between the Brazilian and Ronaldo.
"I want Robinho to stay with Madrid because I think that he is almost the same as Cristiano Ronaldo," he added.
"People criticise him a bit and say he does not play well in big games, but I have seen Ronaldo disappear in some of Manchester United's big games.
"I am not criticising because I just want to point out that a player cannot be at the same level all year round."
Premier League Fixtures – The start of the new Premier League season might still be a while off, but the fixtures are already out and we've got all the early match betting – Aug 16th