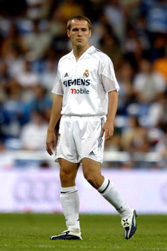 Newcastle United manager Graeme Souness remains optimistic that Real Madrid striker Michael Owen will sign for the Premier League club.
Newcastle agreed a club record transfer fee of over £15m with Real for the England striker on Wednesday, although Owen has admitted he would prefer to return to his former club Liverpool.
"He is contracted to Real Madrid and it won't be him that makes that decision. No player can make that decision," Souness said.
"If the offer has been accepted that means they are happy with the money we are offering and then it's up to us to make the club attractive to Michael.
"The fact we've made a whacking big offer for him that has been accepted my understanding is that a loan is not an option."
Newcastle have picked up just one point from their opening three league games, and are desperate to sign a forward to support Alan Shearer.
"We've made his club an offer that has been accepted by Real Madrid and it's now up to the player and his advisors to say yes or no," added Souness.
"I am a confident sort or person; I'm an optimistic and a pessimist at the same time and I am hopeful that Michael Owen will join us and he obviously knows players at our club and he will be speaking to them about what we can offer.
"Real Madrid have spent a lot of money on Robinho and Baptista and I would imagine that they are like any other football club would like to recoup some of the money on a player that might not be involved too much this year. It's common sense as far as I see it."