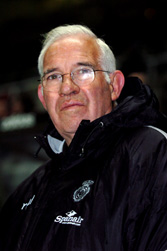 Spain's national manager Luis Aragones yesterday called Thierry Henry a "black shit" but denied he had made a racist remark.
The recently appointed coach of th Spanish national team made the remark to Henry's Arsenal colleague Jose Antonio Reyes during training at the Spanish FA's Las Rozas headquarters yesterday morning.
Aragones' outburst was apparently an attempt to motivate Reyes, claiming he was a better player than Henry..
"Tell that negro de mierda [black shit] that you are much better than him," Aragones told Reyes.
"Don't hold back, tell him. Tell him from me. You have to believe in yourself, you're better than that negro de mierda ."
The exchange was heard by journalists and the remarks were broadcast in local station Antenna 3's afternoon news slot as well as being repeated on several sporting websites.
When the Spain squad arrived in Santander last night to prepare for Saturday's World Cup qualifier with Belgium, Aragones confirmed the veracity of the remarks but denied that his remarks were racist.
"I am a citizen of the world," he said. "Some of my best friends are black, including those I have known since childhood. The fact I make a joke in order to motivate a player does not mean I am racist in the slightest."
Reyes, meanwhile, played down the remarks, saying: "I was dancing with the coach. It was a jokey moment, nothing more. Things that happen within the team should stay on the training pitch. Luis and I both knew who he was referring to. But he was just joking."