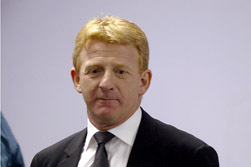 Celtic have unveiled Gordon Strachan as their new manager following last week's resignation of Martin O'Neill.
The former Southampton and Coventry manager succeeds Martin O'Neill who quit Celtic after Saturday's Scottish Cup final win over Dundee United to look after his ill wife.
Strachan, who has taken his former Southampton assistant Gary Pendry to Parkhead has signed a 12-month rolling contract.
"I need to apologise to people who have phoned me over the last five or six days," said Strachan. "It was Martin's time.
"I didn't want to get involved in anything; Martin deserved that time to win the cup and enjoy his last couple of days here.
"People have been asking me for years about whether I'd go back to Scotland and I thought maybe 'no'. But, manager of Celtic, in seconds it's 'yes' and that's it.
"They are a world famous club and you cannot turn down that chance to perform as a manager here and in a stadium as fantastic as this. It's a thing I just couldn't turn down.
"I do feel invigorated. I said when I stopped at Southampton, the next job I want is something exciting and this definitely had it. Even the wife could tell I was really excited about this job.
"You know it when somebody asks you if it's going to be the right job for you.
"It's a surreal thing with me and Martin. We spoke a lot on the phone and were together again last night with the coaching staff and had a great time. I was telling Fergie stories and he was telling Cloughie stories. He won on his stories but I'm sure I can exaggerate mine as the years go by.
"I'm proud to be asked to take this hard job to take over from Martin. Five years ago, it was maybe too much for me but now I know it's not too much for me and I'm looking forward to it."
Strachan was asked about his approach to management.
"Anything to do with players, I like. The rest is hard work. I like dealing with the players and I've got a big enough back-up staff to handle that.
"[Watching them] I reaffirmed some beliefs I had anyway. I could be more analytical about the games I watched.
"I've been around the world watching football fitness techniques. It's quite simple really. Have a good formation to stop you losing goals then get good players to win games. It's as simple as that, not as cosmic as coaches make out.
"They are actually giving themselves a pat on the back when their tactics are spot on but, when they lose, it's the players who are terrible.
"When I left Southampton, I think people thought I wanted a better job than Southampton but I wanted something different. We're right in there with different now.
"I know what I'm letting myself in for. It still doesn't deter me nor make me less excited.
"It's a magnificent challenge, a magnificent club with good people. It's a fantastic opportunity to become a better manager.
"Gary Pendry is to come along with me, he's been with me for eight years and will be my assistant. The rest of it is not a problem as I don't have to take a lot of people around with me. I'm quite happy to meet new people and they might just give me some new ideas too.
"My target is just to win. We have to win every game, all the time, friendlies and everything.
"It's a different mentality you've got when you come to this club and I have to get used to that myself.
"If I said last week, let's forget about how you play, let's win, they [the fans] would have accepted that.
"We'll try to make players as individuals and as a group better but we must win.
"I don't sit here thinking I hope everybody likes me. My responsibility is to the players, to get them working well, everyone else will follow.
"I can't worry every day if I've upset a fan or anything like that. There will be days when they like me and days when they don't.
"But they've got to remember they will only dislike me for the decisions I make sometimes, hopefully they will stay on a level keel with me as a person."