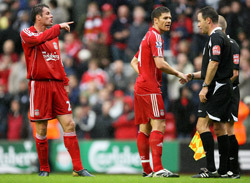 Premiership Top Scorer: Drogba 7/1, Torres 10/1, Owen 33/1, Bianchi 66/1 click here to view all others players.
Liverpool manager Rafael Benitez was left fuming and skipper Steven Gerrard said Rob Styles had been intimidated after he awarded Chelsea a penalty on Sunday.
Styles awarded a penalty to the visitors despite minimal contact between Liverpool defender Steve Finnan and Chelsea's Florent Malouda.
"That decision is impossible to explain, it was the invisible penalty" said Benitez after the 1-1 draw.
Styles also appeared to give Chelsea defender Michael Essien two yellow cards but did not send him off.
And after the game Chelsea coach Jose Mourinho said: "Michael was honestly very frightened, he thought he had been booked again.
"The referee then explained that he had only booked one player, John Terry, but Essien stood there for a long time and he said afterwards that he believed he had been cautioned again."
Benitez believes the penalty decision was a clear mistake by Styles.
"I want to have a lot of respect for referees, but sometimes I cannot understand why they give some decisions," said the Spaniard.
"I think he will watch the video of the match and admit that his penalty decision was a mistake."
And Gerrard demanded Styles to apologise for his penalty decision.
"I don't want to say too much because I will get into trouble, but the referee didn't play well," said the Liverpool skipper.
"Whether it was because the Chelsea players were talking I don't know, but in the end he's cracked and made a bad decision.
"It wasn't a penalty and I hope he comes out and says sorry now."
Meanwhile, Mourinho refused to criticise Styles over the penalty decision but suggested the referee had not been helped by a culture of diving.
"I haven't seen the replay of the incident and it was difficult to make out what was happening at the time," he insisted.
"Rafa has his opinion and I have mine. I judged the game to be a good and a fair one.
"Perhaps there were too many cards but overall I thought Mr Styles had a positive game.
"Not every player on the pitch was helping the referee."
"If people say it was not a penalty I'd ask them to comment on the goal we lost here in the Champions League semi-final," he added.
"We are a naive and pure team. We do not have people diving into swimming pools, Chelsea is a naive team."
But Benitez responded: "I will not name people, but you can check their team and see how many times they do things that Mourinho says that they do not do.
"I remember a lot of situations in the last three years, and you could see the players talking all the time at the referee."
Premiership Top Scorer: Drogba 7/1, Torres 10/1, Owen 33/1, Bianchi 66/1 click here to view all others players.