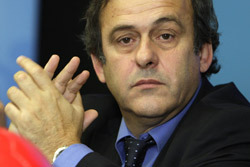 UEFA president Michel Platini believes the implentation of goal-line technology is unnecessary following the introduction of additional refereeing assistants.
There had been pressure from many parties those within the game to introduce video technology, but UEFA and world governing body FIFA have always resisted the calls.
However, although FIFA president Sepp Blatter has agreed to conduct further tests, it appears neither he nor Platini is keen to utilise technology after the introduction of two additional referees behind the goal-line in the Champions League and Europa League.
"In my opinion, technology isn't good for football," Platini said in an interview with Marca. "Nobody [at UEFA] wants to bring it into our sport – and nor does Blatter.
"The two additional referees in each area are a great help. They would have seen Maradona's hand.
"Football was managed by just one man for 100 years and it was impossible to appreciate everything that happened on the pitch, so sometimes he would make decisions without having seen what went on. Now, if a referee doesn't see something, it's because he's not very good."
Platini believes the goal-line assistants have brought an end to the practice of diving in the area.
"There is no more simulation in the area because there is a referee who sees it," he said. "We are happy and we don't need more technology."
Platini also spoke about UEFA's battle to clean up the game.
"We are fighting and we will always fight against those things. Racism and violence are external circumstances in football – individuals who go to the stadium for political reasons," he said.
"Then there are other factors relative to the game, namely illegal betting – those affect the players directly, they affect me, they affect everyone.
"We have to eliminate it radically, but I need the collaboration of the governments. We are talking about investigations that have already begun, but that are very dangerous. There's a lot of money at stake and I need the governments, the judges and the justice system to help us eradicate the problem."