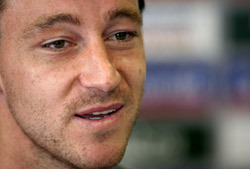 Chelsea are now just 2 points clear after suffering a shock home defeat against Sunderland. See all the Premier League betting odds at Easyodds.com.
Chelsea captain John Terry says he has not been fully fit for five years and is no longer willing to spend his retirement in a wheelchair counting his medals.
It was revealed this week that Terry could be out for months due to a nerve problem in his right leg and he now believes that he must remedy the problem before resuming his career.
"The last time I played fit? Maybe five years, maybe more," he told the Daily Mail. "I can't really remember.
"If you can take an anti-inflammatory and struggle through, you do. A lot of players would tell you that, and it happens most weeks. Games are not so bad because the adrenaline keeps you going, but training on a daily basis when every time you move it hurts – that is a real battle.
"The pain from this injury is the worst I've had. There is no way I can continue but, even on Sunday against Sunderland as the goals were going in, I was thinking, 'If I had played one more game, could I have made a difference?'
"I know a lot of people thought I was just ducking out of England but would be back to play for Chelsea against Birmingham, but no. I'm 30 next month and I've got to start looking after myself.
"It's funny – I was reading what I said about ending up in a wheelchair the other day and I thought to myself, 'You know what, mate? That's probably not your best plan'. I still say if the ball is there to be won I will go for it, whether with my head or whatever, and if it means us scoring or stopping a goal I won't think twice.
"But counting medals in a wheelchair? I'd rather play with my kids in the garden, thank you very much. I hope people will appreciate that. I'd like to rethink the wheelchair idea, please."
He relayed an anecdote when, in a 3-0 victory over Manchester United on the day Jose Mourinho's Chelsea won the title in 2005-06, Wayne Rooney caught Terry's ankle.
"It was pouring with blood," he said. "I had ten stitches at half-time and an injection to numb it. I didn't really want to go off, but every now and then I'd have a sly look at the bench, thinking he might want to take me off because we were winning well by then.
"[Mourinho] wouldn't even look at me. Didn't give me the time of day. He was in one of those moods – 'Nobody can mess with us, nobody can compete with us, nobody can mess with our heads'. By the end, I had the same attitude.
"I took pride staying on. I thought, 'I'm going to get through this. I'm going to be there right until the end', but by then I was out of it. I couldn't walk. I could barely stand up."
He added: "You know, I'm quite soft and gentle away from football. People who don't know me, old ladies in the supermarkets, often say they thought I would be more aggressive. They're surprised if I'm nice.
"I don't know what they think I'm going to do – hit them with a two-footed tackle in the fruit and veg aisles, maybe…"
Chelsea are now just 2 points clear after suffering a shock home defeat against Sunderland. See all the Premier League betting odds at Easyodds.com.
A subscription makes the Christmas perfect gift. Give a lasting gift this year and save up to 33% when you subscribe.