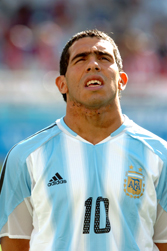 easyodds.com is the home of football betting. Click here for odds on every football match.
Argentinian striker Carlos Tevez can have the same impact for West Ham as Wayne Rooney has for Manchester United, according to the club's manager Alan Pardew.
Pardew pulled off the transfer coup of the close season, when he persuaded Tevez and compatriot Javier Mascherano to join West Ham from Corinthians.
"I was at the Argentina-Serbia game when Tevez came on as a substitute and he took my breath away," said Pardew.
"Of the two, he is the one who is a special talent and, hopefully, he will take us to another level – like Rooney does when he plays for Manchester United.
"He is that type of talent and I want that in my team.
"I saw in less than 10 minutes that Tevez can be a star for the next 10 years.
"He will be a top, top player. Tevez has an assurance about his ability. He's got good agility and looks like a striker who has every tool.
"He's a decent size too. He's more explosive than (Barcelona forward) Lionel Messi. He's really a (Diego) Maradona-type player."
Tevez is of a similar build to Rooney, and the pair also share a fiery temper, although Pardew is unconcerned by the player's reputation.
"If you look at players of his type, I think they carry that trait. Because they are so special and have that talent they were picked out more from an early age," added Pardew.
"Rooney was probably getting special attention from other players when he was 10 years old.
"You are going to build up that anger and frustration in your system. I don't expect his fiery side to disappear under my management but Carlos has to channel it better and the great players do that.
"He is a young boy who is impetuous and is going to have to learn lessons quickly, especially in the Premiership because he'll be a target."
Pardew urged supporters to "rejoice" at the arrival of two world class players.
"The history and reputation of the two players is such that you just don't turn them down," said Pardew.
"I don't want to be a mediocre club. It doesn't interest me. We want to challenge the big teams in this division and this is a route to doing that."
easyodds.com is the home of football betting. Click here for odds on every football match.