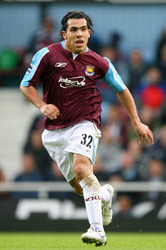 The Carlos Tevez dispute will go to a hearing at the High Court on August 22, unless the parties can agree an out-of-court settlement to resolve the issue of the player's ownership.
The dispute over whether his club, West Ham, or his advisers, MSOI, own the economic rights to Tevez, has prevented the player completing a move to Manchester United.
West Ham's lawyers have suggested a deal to the striker's advisers which could end with the Hammers picking up several million pounds.
Tevez's representatives Media Sports Investment are suing West Ham for £30million for breach of contract after they terminated third-party agreements regarding the player in April.
However, it would suit neither party if the mattter goes to court as the issue could take several months to resolve.
Talks are continuing between the three parties to see if an agreement can be reached that would allow the Argentinian's move to Manchester United to go ahead before the start of the season.
The Premier League have to be satisfied that West Ham are receiving an adequate compensation for the player and chairman Sir Dave Richards, chief executive Richard Scudamore and general secretary Mike Foster spent several hours yesterday discussing the proposal.
West Ham have resigned themselves to losing Tevez but are keen to get an agreement rather than continue paying £1.75million annual wages for a player who will not turn out for them.