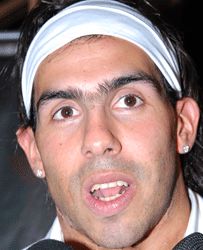 Can Tottenham defeat Twente and top Group A on Tuesday night? See the best betting here
Carlos Tevez insists he is happy with life at Manchester City, despite revealing recently that he was "tired of football" and contemplating retirement.
Tevez, who has scored ten league goals in 15 appearances this season, claims he is happy with life at Eastlands.
"I'm happy here. I really am," Tevez said. "I do miss my family, just like anyone would when they are not around. But I don't see retirement happening for a long time to come.
"A sacrifice has to be made when you make a commitment like I have done with City and it is something I am going to see through. Once that job is done I will have plenty of time with my kids."
City's season has been interrupted by internal wrangling, the latest incident of which saw team-mates Mario Balotelli and Jerome Boateng clash in training last week. Yaya Toure and James Milner are also reported to have had an altercation while Emmanuel Adebayor and Vincent Kompany have argued on the pitch.
Tevez has played down suggestions that City's dressing room is rife with fueds.
"It is just like any club," he said. "There are both good and bad vibes alike. The most important thing is that, as players, we are all pulling in the same direction and trying to do our best for the club. Anything that goes on between us off the pitch or in the dressing room stays there and he and I keep on fighting for the club.
"There is a lot of pressure within the club which the players are always stuck with. Sometimes the odd thing gets out of the dressing room through people who don't have the best interests of the club at heart. It's not big deal. You just have to live with it."
Can Tottenham defeat Twente and top Group A on Tuesday night? See the best betting here
A subscription makes the Christmas perfect gift. Give a lasting gift this year and save up to 33% when you subscribe.