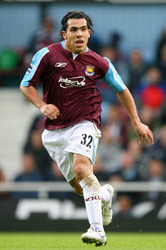 Manchester United's attempt to sign Carlos Tevez from West Ham looks like it may end up i court after the Premier League rejected an attempt by MSI, the company that brought the player to the Premiership, to cancel his registration with West Ham United.
The Premier League also rejected a personal letter from Tevez in which he informed them that he was terminating his contract with the London club.
The Premier League does not acccept that MSI have any rights over the player's registration, having been informed by West Ham that the club had ripped up its agreements with MSI. Last week the league ruled that Tevez could not join Manchester United unless West Ham received the transfer fee in full.
The latest development comes after it emerged that United refused to pay any fee to West Ham as they did not consider the club to be the owners of Tevez.
United are convinced that West Ham do not own the rights for Tevez and the club has been in negotiations with MSI's, Kia Joorabchian.
After West Ham were fined £5m for breaching regulation U18 the Premier League informed the club that Tevez could not continue playing for them unless the contract, between West Ham and MSI, was terminated by the club.
In order for the Premier League's ruling to stand up West Ham have to demonstrate that they own the player, which in turn would mean that they received any transfer fee if the player was sold. However, with MSI asserting their rights of ownership, such a scenario remains highly improbable.
This points to the possibility of the issue being settled in the civil courts or the Court of Arbitration for sport.
One possible outcome would see the courts back MSI's claim to own the rights for Tevez, which would allow the agency to receive the fee but not at the expsne of the integrity of the Premier League's original ruling.
Meanwhile, Fifa has confirmed it would be willing to help United's efforts to sign Tevez.
A spokesman confirmed the organisation would be prepared to offer any assistance necessary.
"We have not received any official request from any of the parties involved so far," said a Fifa spokesman.
"If we do receive a request we would then decide whether we have to look at it or if it is up to the FA to rule on it.
"The FA could also ask us for guidance and send us all the relevant relevant information."