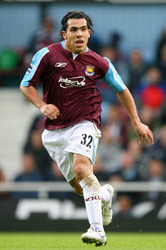 Carlos Tevez's move to Manchester United is in doubt after the Premier League insisted that West Ham United must receive his transfer fee.
The Premiership champions were hoping to finalise a deal for Tevez at the end of the Copa America tournament in Venezuela, but the league's intervention means West Ham and Tevez's agents could end up in court.
"As far as we are concerned any deal to take Carlos Tevez away from West Ham has to be done directly with the club," said a Premier League spokesman.
West Ham had been prepared to let Tevez go to Old Trafford without receiving a fee but after the club ripped up the third-party agreement that connected them to Tevez's agents, they are now deemed the sole owners of the player. The decision to tear upther existing cvontract came after the Hammers were fined £5.5m by a disciplinary commission in April for illegally registering the player last August.
Tevez, 23, admits he is desperate to join United.
But he said: "For me, Manchester United will be a sensational destination."
"My dream is to be an idol in English football and I can achieve this now.
"I am a player who thrives on challenges. I went to England to triumph in the Premiership and with West Ham I have achieved that first stage.
"Now I'm ready to move on to the next stage."
However, it may not be so straightforward, as West Ham are bound by their submission to the Premier League inquiry, whereby they agreed "to contend that the Tevez Agreement was invalid and unenforceable and, from the club's perspective, terminated, and the club would not perform in accordance with it".
Tevez therefore is still under contract to West Ham for three years, but the League wants to ensure his agent, Kia Joorabchian, is not paid any of the fee after previous questions over the Argentine forward's "ownership".
One possible compromise would be for West Ham to be paid a transfer fee and then agree a compensation figure with Joorabchian for breaching contracts with his company, Media Sports Investments (MSI).
It is understood though the League would want a substantial chunk of the transfer fee – equivalent to his market value – to remain at West Ham rather than it all be handed over to MSI in compensation,.