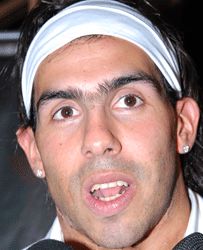 Chelsea haven't lost to Bolton since 2003 and host the Trotters at Stamford Bridge on Tuesday – full betting here.
Manchester City striker Carlos Tevez has said the players are "not happy" with Roberto Mancini's training methods and suggested that former boss Mark Hughes should have been given more time.
Hughes was sacked in December after 18 months in charge at Eastland and replaced by Italian Mancini.
"The players are not happy with this," Tevez told the Daily Mail. "We are at the end of a long season, we have big matches, we are tired but there are still double training sessions, morning and afternoon. Then, the next day, we train for two hours. I do not understand. But, please, he is the coach and I am the player. He is in charge. I am okay with him."
Tevez showed his support for former boss Hughes, insisting that he should not have been sacked by the club's Abu Dhabi owners.
"It is their club, their money. But, if you ask me if I thought it was the right decision, the answer is no," he said. "I will play for any manager; I play for the shirt and must respect the right of the people who make decisions to change things, but a team does not form overnight.
"Mark should have been given more time. The decision was taken with too much haste. Did the directors think it through? You cannot invest so much and then sack the manager after five months. Mark brought us all here. He is a great manager and he will get another big club, 100%."
Tevez also claimed that he was unhappy about City's decision to greet his £25.5 million signing by erecting a billboard saying 'Welcome to Manchester'.
"I never understood the intention of that poster," he said. "What was the point? Was it to welcome me to Manchester City or was it to anger Manchester United? Nobody ever told me. I'm indifferent towards it but it is important you know I had nothing to do with the poster. I'd have preferred for it not to be there. I have respect for all the clubs I used to play for. That was not showing respect, was it? I did not transfer from United to City for the controversy."
Despite his reservations, Tevez thinks he has flourished at City as he is being played in his preferred position.
"I am playing now as a free striker. This is my position," he added.
"I am now playing in the position I played in Argentina and Brazil and in the last 10 games for West Ham.
"At Manchester United, I was asked to defend more. It was a different responsibility.
"Now I go on to the pitch and I am physically fit and mentally strong. I say to myself, 'you have to win the game for City'.
"In my head, before the game, I think, 'goals, goals, goals'. It's 28 of them and still counting."
Chelsea haven't lost to Bolton since 2003 and host the Trotters at Stamford Bridge on Tuesday – full betting here.
Make sure you don't miss any of the last news and articles from World Soccer. Subscribe to World Soccer today and take advantage of our all 50th anniversary offer, saving up to 50%!