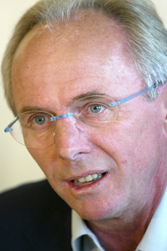 Prospective Manchester City owner Thaksin Shinawatra has revealed he has held talks with Sven-Goran Eriksson about City's vacant manager's job.
Thaksin submitted a formal offer of £81.6m for City on Thursday.
"I have my advisors working on it," Thaksin tolf the BBC. "Sven is one of the names they have given me.
"Sven has a very good reputation, he is a very capable coach.
"He has good connections, especially with the main players in the UK and Europe and that would help the club in getting new players to join in the future.
"I met him once, last week maybe. I had my advisor talk to him and just say hello and touch base. I didn't talk to him that long because my advisor did that interview.
"I have spoken to my financial advisors and they are quite confident that I will get 75% soon.
"I can't say anything until next week but I hope to have a manager soon. When I have got 75% I can decide many important issues."
Eriksson has not worked since stepping down from the England job after the 2006 World Cup.
He has enjoyed success at club level with Gothenburg, Benfica, Roma, Fiorentina, Sampdoria and Lazio.
Former Chelsea boss Claudio Ranieri was initially lined up to succeed sacked Stuart Pearce at City, but chose to join Juventus.
Thaksin, who is at the centre of a corruption investigation in his native Thailand, was interested in taking control of Fulham in 2003 and Liverpool in 2004 before launching his bid for City.
"I was still interested in a Premier League football club when I came across Manchester City, who are what the English people call a sleeping giant," he explained.
"I liked the club because it was over 100 years old, a big club and with a great stadium.
"I looked around last week and I love it. The ground is well-designed and big – suitable not just for football but for other activities as well."
"It makes it easier to move the club forward because the potential is there – and I am very interested in moving City forward.
"But the most valuable thing is the fans – they are extremely loyal. Even though the club has not won anything for 31 years they are still supporting them and that is very importatnt to me.
"I am never one to disappoint," he added. "When I decided to invest I decided to bring the club forward. I am ready to bring new ideas, vision and investment to the club.
"I can dream but my dream cannot come true quickly so we need to build the club step by step.
"There will be a new manager definitely and we will add to the squad too. The existing players are very good but we will have to add more.
"That is why we want to start as soon as possible. We want to get a new coach so we can start to assemble a new team to help us do well next season.
"I cannot say exactly how much the new manager will have to spend.
"But when I asked how many players do City need, my advisors said two strikers, two midfielders and one goalkeeper.
"If we identify the right person and they agree to join us then we have to invest. I am already buying the boat, I need to buy the engine too."