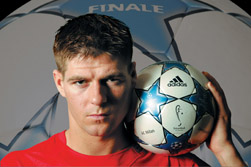 Liverpool captain Steven Gerrard is relishing the prospect of leading out Liverpool to face Milan in Wednesday's UEFA Champions League final on Wednesday
Gerrard has spoken to worldsoccer.com about Liverpool's march to the final and what it means to the club and its' supporters as well as discussing the prospects of him remaining at Anfield next season.
A fifth success for Liverpool will see Rafa Benitez's side get to keep the trophy – yet another incentive for the ambitious Gerrard.
What's your prediction for the Final?
It will be a really close game. AC Milan have a fantastic team, in my opinion the best in Europe. They've got some world class players. both defensively and offensively. It's going to be a really tough game for Liverpool but we're confident that on the night we can beat them.
Will it be a high-scoring game?
I don't think there will be many goals. I think the two teams are very good defensively, so it will be very tight. I don't think it will be 3-3 or 4-4 or 3-2. I think it will be really close. One goal either way could decide the Final.
So it could be 6-5 on penalties?
Hopefully not. Hopefully someone will win the final in normal time. We don't want to see a Final won on penalties. It's not good.
Are you surprised Liverpool are in the Final?
I didn't think it was possible. I said at the beginning of the season it would be really tough to go to the Final of the Champions League. I didn't believe it would happen, but we've played really well and we've got better as we've gone along. We've defended really well, scored some magnificent goals and we deserve to be in the Final.
What's been the influence of Rafa Benitez?
Benitez works on the team, shape and tactics every single day. Every single day we work on the team. For Milan, for the past week, since Aston Villa, all the way until Istanbul, we'll prepare for AC Milan and how to beat them and how to defend against them, how to attack, what we think their weaknesses are, what we think their strengths are, every single day we'll prepare for AC Milan.
Which players do you rate from AC Milan?
I like them all! They're a fantastic team. Obviously Kaka, Shevchenko, Seedorf, they're the match-winners. Pirlo's very clever. Gattuso's got a lot of energy and he's aggressive. But I think they're a fantastic team and they've got a lot of individuals. What I like about AC Milan is their workrate for the team. I know they've got a lot of star names but once the whistle goes it's not about that. They work hard as a team and I've got a lot of respect for the manager.
It would ironic if Hernan Crespo. who's still a Chelsea player, scored in the Final, wouldn't It?
I can undertand that he will want to be the hero, he will want to be the matchwinner. So our defenders have got to keep AC Milan's forwards quiet which is difficult because they're a fantastic forward line. They're big, strong and they can both score goals. We're in for a reallly tough game. But they've also got to worry about our good players as well.
Did you watch Milan play PSV in the semis?
I watched both games, and I've watched both on tape again since then. I thought PSV Eindhoven played really well, but AC Milan still went through. People are talking about how well PSV played but AC Milan are still in the Final. Nobody can take it away from AC Milan, They've done fantastically well in Europe again. They were the favourite before we started and you can see why because they're a great team.
How important for you personally will it be to captain Liverpool in Istanbul?
This is the biggest game of my life, the proudest moment of my life will be to lead the boys out. I can't wait for the game. I want to experience winning rather losing because I can imagine that losing is the worst feeling ever. Hopefully it will be the best night of my life.
This club's got a tradition of doing well in Europe and we feel that it's our responsibility to make sure it continues. We've got a chance of making history at the football club and we want to win this final. We don't just want to turn up and enjoy the night, we're going there to win.
How do you relax before a big game?
When there's a Champions League Final a few days away it's difficult. I'm thinking about it 24 hours a day and I'm just dreaming of winning it.
It's a huge game for the city of Liverpool, isn't it?
This game means everything to the people of Liverpool. I've spoken to a lot of fans, my family are fans. People have been talking about this final since the Chelsea game, nothing else. So I know what it means to the people, I know what it means to everyone associated with the club, even myself personally it means everything, so the players will be ready and I'll be ready.
I've dreamed of lifting any cup for this club for many years. When I first got the armband the first thing I wanted to do was lift a trophy for the fans. I've got a chance to lift the biggest one you can lift for your club. I'm praying, praying that I going to lift it.
Was there a turning point in the competition when you thought you could reach the Final?
After we scored the late goal against Olympiakos and then we beat Leverkusen, each step in the tournament our confidence has got bigger. And after the Chelsea game we now believe we can win it, we're confident we can win, but it's going to be really tough.
Does it bother you that people have said Liverpool have played a very defensive game?
We've had a lot of people criticising the way we've played, that we've been too defensive, too negative, that we don't deserve to be in the Final. But I think both Liverpool and AC Milan deserve to be in the final because they've done really well.
How will you play in Istanbul?
All I can say is that we've preparing a lot in training, we've been working on different things. You can't just say one thing, you have to see how the game goes because if you're too offensive against AC Milan you get punished at the back. If you're too defensive you're inviting them to come on to you. So there's all kinds of different scenarios that we've worked on and you'll see on the night how we're going to approach it, but we're prepared for a tough game. We're ready, we won't be too defensive, but we won't be too offensive, we'll try and get a happy medium.
It will be great to have Djibril Cisse back, won't it?
He's an important player, he's very quick. If he starts the game or if he comes on as a sub, his pace will cause AC Milan problems. He's such a threat going forwards. It's not about individual players. First and foremost we need to play well as a team and hopefully get a bit of luck.
Your dad's been very influential in your career, hasn't he?
He's watched me every game at amateur and professional. Without my dad I wouldn't be sitting here.
So he'll be in Istanbul?
Yes, in a good seat, as well. We get 20 tickets but if you've got any spares, I'll take them!
Will you stay at Liverpool next season?
We'll see… after the Final I'll sit down with the manager and we'll sort my future out. That's how it is.
So you're not going to say my heart is in Liverpool and I'm staying?
You'll find out after the Final.
Do you the remember the UEFA Cup Final in Dortmund against Alaves?
Yes I do, and I've still got the tapes to prove it as well. When you're playing AC Milan, it's a little bit different from Alaves. We were the favourites, everyone was expecting us to win. The scoreline was crazy and it was a crazy match to play in. This Final's going to be different, we're the underdogs, Milan deserve to be favourites because they're a fantastic team. And it's also a much bigger Final, with respect to the UEFA Cup, it plays second best to the Champions League. This game and this night's a lot bigger,
It would be nice to score another goal wouldn't it?
It would be nice to score another goal, but I love scoring any goal, to score in a Champions League Final would be perfect. But the most important thing is to win the game, it doesn't matter who scores. As long as I lift that cup I don't care.
Have you played against any of the Milan players before?
I haven't really played against any of their players. I played against Stam once or twice. I watch a lot of Italian football and also follow the Italian teams in the Champions League, so I know quite a bit about AC Milan. I'm sure I'll be watching a few more tapes before the final to make sure I'm fully prepared.
Do you have any memories of the 1984 Final?
Only on tape. I was born in 1980 so I was only four in 1984. I've got tapes and I've listened to my dad all the time. I know how big this game is for the club.
You'd be joining a select group of Liverpool captains if you win…
I want to join all the captains, Emlyn Hughes, Souness, I want to join them. And we want to keep that trophy. If we win it it'll be our fifth trophy, so we'll be allowed to keep it, so that's another incentive.
The Final will also be 20 years since Heysel…
The players are just trying to focus on the game. A lot of people will be talking about different things but for the players it's just important to focus on the game. Forget about everything else, just focus on the game and try and win the football match.
And it's be your birthday on May 20th?
You know what I want for my birthday, don't you! It would be the best birthday ever.
Are teams intimidated by Liverpool's history?
I'm sure when teams meet Liverpool in Europe, they know our history and tradition. They're desperate to beat us because we've doe so well in the competition. If a tenam beats Liverpool, it's a big victory, so we know AC Milan will respect and they'll be desperate to win the final, just as much as our players. It's going to be a do-or-die night, simple as that, there' a lot to play for and may the best team win.
Is this your best chance of winning the European Cup?
This competition is going to get more difficult to win each year because the teams are going to get stronger. I mean if you look at the teams that have been knocked out, Juventus, Chelsea, Arsenal, Man U,they're not happy not being in the Final. So they're going to buy more players and get stronger. This opportunity might not come along again.
Have you spoken to Michael Owen recently?
I haven't spoken to Michael but he texted me after the Chelsea game saying well done, congratulations, and I'm sure Michael Owen wants us to win the cup. If it was up to me, I'd like him to be playing with me.