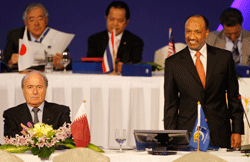 QPR are now 5 points clear at the top of the Championship and are a best price 10/11 for the title
Sepp Blatter has been at FIFA for too long and needs to be replaced as president of football's governing body, Asian Football Confederation President Mohamed bin Hammam has asserted.
Less than two months after helping Qatar land the 2022 World Cup following a controversial voting process, Bin Hammam said the FIFA president's longevity in office has contributed to the perception that the organization is corrupt.
"Everybody is going to accuse us today as corrupted people because maybe people see Mr. Blatter has stayed a long time in FIFA," Bin Hammam toldThe Associated Press. "Thirty-five years in one organization is quite long time. No matter how clean you are, honest or how correct you are, still people will attack you. You are going to be defenseless. That is why I believe change is the best thing for the organization."
Blatter, 74, who joined FIFA in 1975 as technical director, became secretary general in 1981 and president in 1998 – is up for re-election for a fourth four-year term as FIFA president in June. Although Bin Hammam has said that he would one day like to replace Blatter, he declined to say whether he would challenge him this year.
"I did not make up my mind yet," Bin Hammam said. "I would rather wait and see."
"I'm actually seeking to see competition within FIFA for the post. I would prefer to see two candidates proposing themselves, or maybe more than two proposing themselves to the congress of FIFA," Bin Hammam said. "Competition is good for the organization, whether president or any other posts. Competition is the best way to make the organization vibrant and alive."
Bin Hammam has clashed with Blatter repeatedly over the years, most recently over his suggestion that the 2022 World Cup could be held in January and Qatar could share the tournament with its Gulf neighbors.
Bin Hammam said Monday he was against a Gulf tournament and reiterated that the 2022 competition should be held in summer – despite the heat – since that was the bid submitted. He, however, said last week he would be open to discussing a move to the cooler, winter months.
Bin Hammam said he was angry that FIFA executives had initiated the discussions in the first place.
"This is premature," he said of the discussions.
"We in FIFA should stop acting on behalf of people who are going to be in power in the future. There will be a different executive committee in FIFA which will be in power that day. Let them decide what is best for 2022," he said. "Why are we rushing? Why are you in hurry to decide something for 2022?
QPR are now 5 points clear at the top of the Championship and are a best price 10/11 for the title
Take advantage of the January sales by saving up to 36% on a subscription to World Soccer