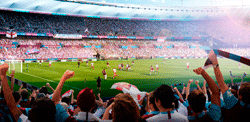 Port Vale are up to 7th in League Two after last night's win over Lincoln – they're now a best price 9/2 to be promoted…
Tottenham have contacted the Olympic Park Legacy Company (OPLC) raising questions over their decision to award West Ham the Olympic Stadium after the 2012 Games.
Fellow London club West Ham were selected over Spurs in February as the Stratford stadium's preferred tenant by the Olympic Park Legacy Company.
Tottenham's bid involved demolishing the stadium and rebuilding a football specific venue on the site, while refurbishing the existing athletics stadium at Crystal Palace as part of the Olympic legacy.
West Ham's proposal was thought to be preferred due to their commitment to retain an athletics track around the pitch, after the OPLC promised the International Olympic Committee they would keep the athletics facility.
Reports surfaced on Wednesday that Spurs had issued a letter to the OPLC this week in relation to potential judicial review proceedings as construction on the 80,000 capacity Olympic Stadium was completed.
Tottenham have denied reports that they were considering opening judicial review proceedings over the decision to award the stadium to West Ham, but have confirmed they have contacted the OPLC, as well as other parties involved, expressing their concerns with the processes which led to the decision.
A club statement read: "At this stage the Club has not issued any proceedings against the Olympic Park Legacy Company (the OPLC) or any other party in respect of the decision regarding the award of the Olympic Stadium.
"The Club's lawyers have written letters to the OPLC, the Mayor of London, the Minister of Sport and the Secretary of State for Local Government and a separate letter to the London Borough of Newham raising a number of concerns with the processes which led to the award.
"The letters also requested – in the interests of transparency – for the provision of certain information concerning the processes, which the Club considers that it is entitled to.
"Tottenham Hotspur will determine its next step as and when it receives a response to these letters."
Port Vale are up to 7th in League Two after last night's win over Lincoln – they're now a best price 9/2 to be promoted…