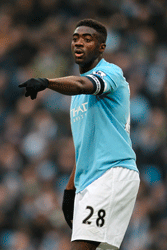 Gavin Beech thinks Man United are the value when they travel to Liverpool on Sunday…
Manchester City's Kolo Toure failed a drugs test after taking a diet pill belonging to his wife, according to the defender's former manager Arsene Wenger.
Wenger claimed that the Ivory Coast international had taken the pill after struggling with weight problems this season.
Toure was suspended by City on Thursday after testing positive for a "specified substance", and could face up to a two-year ban.
Wenger said: "He wants to control his weight a little bit because that's where he has some problems and he took the product of his wife.
"It is a complete surprise because I had Kolo here for years. Very honest living, clean life, always at home – a family man. I do not suspect him at all to have taken drugs to enhance his performances.
"He was not cautious enough. I do not think there was a desire there to do something wrong and then hide it."
A "specified substance" is one that is "more susceptible to a credible, non-doping explanation".
Toure joined City in a £14 million deal from Arsenal in 2009 and served as the club's captain until Carlos Tevez took over last summer.
Gavin Beech thinks Man United are the value when they travel to Liverpool on Sunday…
Take advantage of the sales by saving up to 36% on a subscription to World Soccer