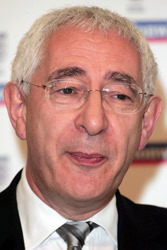 Save up to 33% on a subscription to World Soccer
Former Football Association chairman Lord Triesman claims four FIFA members asked for "bribes" in return for supporting England's failed 2018 World Cup bid.
Triesman – who was initially chairman of England's bid – made the allegations against Jack Warner, Nicolas Leoz, Ricardo Teixeira and Worawi Makudi.
He conceded to a Department of Culture, Media and Sport committee that his bid team should have reported them immediately.
Speaking at the House of Commons on Tuesday, Triesman then said that he will now take his evidence to FIFA.
Triesman said the FA chose not to complain at the time for fear of jeopardising England's bid, which ultimately failed as Russia were awarded the 2018 finals.
"I think, in retrospect, we would have burned off our chances," he said. "In retrospect, that was not the right view to take and I accept that."
John Whittingdale, chairman of the Department of Culture, Media and Sport committee, said he would be writing to FIFA president Sepp Blatter to launch an investigation into the evidence "as a matter of urgency".
Blatter himself promised action if evidence of wrongdoing by executive committee members was revealed.
"I was shocked [upon hearing] but one has to see the evidence," he said, adding that the accused executive committee members were not elected by the same congress as him.
"They are coming from other confederations, so I cannot say that they are all angels or all devils.
"There is a new round of information. Give us time to digest that and start the investigation by asking for evidence on what has been said.
"We will react immediately against all those in breach of the ethics code rules."
Triesman's specific claims are:
– FIFA vice-president Warner asked for around £2.5m to build an education centre in Trinidad, with the cash to be channelled through him, and later wanted £500,000 to buy Haiti's World Cup TV rights, again to be channelled through him;
– Paraguay's FIFA member Leoz requested a knighthood;
– Brazil's FIFA member Teixeira asked him [Triesman] to "come and tell me what you have got for me", with the implication being that he wanted something in return for his vote;
– Thailand's Fifa member Makudi wanted to be given the TV rights to a friendly between England and the Thai national team.
Warner dismissed the allegations made against him by Triesman.
Speaking to Sky Sports News, Warner added: "I've never asked Triesman nor any other person, Englishman or otherwise, for any money for my vote at any time.
"In the English campaign, before Triesman was unceremoniously kicked out, I've spoken to him on his initiative on only three occasions, while I've spoken to his other colleagues on other occasions and not one of them will ever corroborate his bit of trivia.
"I have been in FIFA for 29 years and this will astound many, I'm sure – including people like David Dein [international president of England 2018 bid] and Geoff Thompson [head of England's 2018 bid]."
It was also claimed that two more FIFA executive committee members were paid nearly £1m to vote for Qatar's successful 2022 World Cup bid.
MP Damian Collins stated that evidence submitted by the Sunday Times newspaper – which the committee will publish – implicated Fifa vice-president Issa Hayatou, from Cameroon, and Jacques Anouma, from the Ivory Coast.
FIFA's ethics committee last year banned two other executive committee members after a Sunday Times investigation into World Cup bidding.
Collins said the submission claimed Qatar specifically employed a fixer to arrange deals with African members in exchange for their votes.
Mike Lee, the London-based public relations consultant who worked on Qatar's bid, said he was unaware of any payments being made.
Lee told MPs: "I was working at the highest level of that bid and talking at length with the chairman and CEO and saw no evidence of any of these allegations.
"My experience is I would have had a sense if such things were going on and I had no sense of that."
Two other executive committee members, Amos Adamu from Nigeria and Reynald Temarii from Tahiti, were banned by FIFA's ethics committee last year.