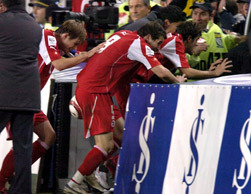 Turkey could be banned from the 2010 World Cup in the wake of the the violent scenes which followed their play-off defeat to Switzerland in Istanbul.
"We will act tough," FIFA president Sepp Blatter said.
"The catalogue of sanctions extends from a simple warning to suspension of the federation, which could mean exclusion from the next international event."
The teams drew 4-4 on aggregate Wednesday, but Switzerland reached next year's World Cup in Germany on away goals.
After the final whistle, objects were thrown onto the pitch and there was scuffle between players in the tunnel on the way to the changing room.
"In the truest sense of the word, fair play was trampled underfoot," Blatter said.
"This is unworthy of football. Football should promote understanding among peoples. This didn't happen here."
Blatter, who is Swiss, said he found it "difficult to speak as a Swiss and as a FIFA president about something that concerns both Switzerland and FIFA. But it's my responsibility."
"If a team that has won cannot celebrate on the pitch and instead have to run off like thieves, then something is wrong," Blatter added.
"Anything can happen – from nothing at all to the suspension of the Turkish federation or even a ban on participation in the next World Cup.
"What disturbs me the most is the lack of respect shown the official Swiss delegation from their arrival until their departure," he said.
Meanwhile, Turkish officials accused Blatter of being biased.
"Blatter's comments were extremely unfortunate," federation vice president Sekip Mosturoglu said.
"This was not a one-sided event."
Subscribe to World Soccer – The essential football magazine