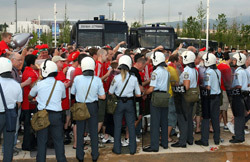 Help us with a Sport and Betting Survey and win a £50 Free Bet! Click here to take part now.
Uefa has pinned the blame firmly on Liverpool fans for the problems prior to Wednesday's Champions League final against Milan.
Riot police in Athens were forced to use tear gas and batons outside the Olympic Stadium as fans were turned away because they were told the stadium was already full.
Uefa spokesman William Gaillard said: "The behaviour of the Liverpool fans is in the end responsible for the problems that took place before the game."
A number of Liverpool supporters with tickets did not get to see the game as the ground was deemed full because fans with forged tickets, or without tickets at all, had managed to evade security.
Gaillard told BBC Radio Five Live: "The behaviour of the supporters before the game made it extremely difficult for the police who didn't want to use brutal methods and they have to be praised for that.
"To control the fact that so many fake tickets were around as we warned but this was all done in Britain.
Former Conservative leader Michael Howard attended the game and he said: "I didn't think the match should have been held at the stadium.
"It's not a football stadium and is not equipped to cope with that number of people.
"Ticket checks were a joke. Many people with valid tickets were not allowed in.
"That is not acceptable and Uefa really need to look at their procedures and make sure everything is all in order.
"As far as I'm aware no-one was hurt, and that's a mercy, but it's no thanks to the Greek authorities, and I'm afraid there was a large measure of incompetence."
But Gaillard responded: "It is very easy to say it is not a suitable stadium, coming from the man that invented the poll tax.
"The Milan supporters didn't face the same problems because they didn't behave in the same way.
"The kind of pushing that was going on and the attempts to jump over barriers – imagine if we had turnstiles we could had a tragedy.
"More than three hours before the game there were incidents at the Liverpool end with people trying to get in either with fake tickets or jumping over the barriers.
"It is obvious that at one point the police felt overwhelmed and it is much to their credit there were no dangerous incidents.
"I am very sorry for what happened to fans who had regular tickets but at the same time there is a collective responsibility in terms of behaviour.
"This area was all for Liverpool fans and the bulk were obviously extremely honest people who had got tickets in the right way and observed the rules.
"But unfortunately because of a minority who did not they found themselves in a very uncomfortable and unpleasant position.
"The only responsibility we could have is that we did not choose a stadium with 250,000 seats, but unfortunately they do not exist."
Help us with a Sport and Betting Survey and win a £50 Free Bet! Click here to take part now.