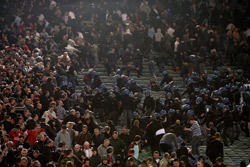 Compare football odds from over 25 bookmakers and claim £500+ in Free Bets. Click here for offer!
Uefa has launched an investigation into the crowd violence that erupted during Wednesday's Champions League tie between Roma and Manchester United.
Riot police charged at United fans at the Stadio Olimpico as both sets of supporters exchanged missiles.
Uefa spokesman William Gaillard said: "We're waiting for the delegate's report. The control and disciplinary body will look at the TV images."
United have promised to look into the situation "as a matter of urgency".
A club spokeman said: "There were clearly some very disturbing scenes in the stadium last night.
"Until we have had chance to discuss the situation with the British Embassy in Rome and the Italian authorities and to understand the cause, it would be inappropriate to comment."
The trouble began when Roma fans surged towards a barrier separating rival supporters and missiles were thrown between the two groups.
Riot police were seen striking United supporters, as they tried to control the situation.
Gaillard admitted that Uefa had little control over the police.
"Italian law says police are responsible for public order inside stadiums. Stadia in Italy are municipal stadiums, they are not the property of the club," he told BBC Radio Five Live.
"We are definitely in favour of soft policing, which is clearly the use of stewards who we know can handle a difficult situation probably better than riot police.
"We are subject to the law so we cannot tell the Italians and other countries where police are in charge of public order in stadia not to enter stadia.
"We are just a football authority not a law and order authority."
Gaillard added: "We will also have to see what role Manchester United fans had in the incidents because they had some problems in Lens earlier this year."
Compare football odds from over 25 bookmakers and claim £500+ in Free Bets. Click here for offer!