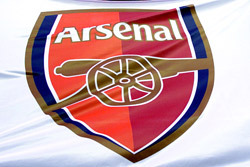 Russian billionaire Alisher Usmanov, who has recently become Arsenal's second largest shareholder, insists he does not want to launch a hostile takeover of the club.
Usmanov bought out former vice-chairman David Dein earlier this year following his fall-out with the club's board over the future of the club.
Dein was then appointed non-executive chairman of the Red and White Holdings, Usmanov's company which has acquired a 23% stake in Arsenal.
However, the relationship between Dein and the rest of the board is a difficult one with the former board member described by club sources as "persona non grata".
Usmanov is now looking to placate Arsenal and has confirmed he does not want the role of Dein to interefere with his relations with the club.
Usmanov's co-investor, Farhad Moshiri, and Arsenal's managing director, Keith Edelman, spoke yesterday and the result apparently is that Dein may be sidelined.
"We do not want to be a hostage to any hostilities between David Dein and the board," he said.
"We are thinking now about how not to end up between the rock and the hard place.
"We will try to convince David to be less hostile to the current board and make an effort to pacify the board in their conflict with him.
"I'm grateful to David Dein that he decided to sell his shares to me and not someone else and we made him our non-executive chairman.
"But I don't want his personal relationship with the board to affect my relationship with them. I want to establish my own relationship with the board."
Usmanov admits he was unaware of the bad feeling that existed between Dein and the current board.
"What we heard about him (Dein) and the board at the outset and what we see now are two different pictures.
"When Mr Dein contacted us we didn't know the substance of the problem between him and the board.
"I think it's a highly personal and emotional situation."