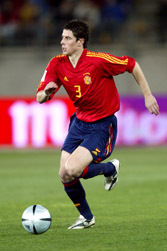 Chelsea have agreed to sell Spanish international left-back Asier Del Horno to Valencia.
Del Horno has travelled to Spain to discuss personal terms after the clubs agreed a deal for an undisclosed fee.
Del Horno, 25, joined Chelsea from Athletic Bilbao for £8m last summer but struggled to command a regular place in Jose Mourinho's starting eleven.
He made 25 league appearances last term but missed the end of the season and the World Cup because of injury.
Chelsea have been linked with Arsenal full-back Ashley Cole and Real Madrid's Brazilian Roberto Carlos, although Mourinho has refused to confirm his interest in either player.