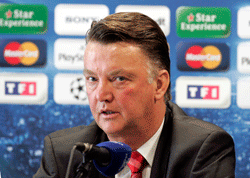 West Brom are now a best price 7/4 for relegation after their superb 3-1 win at Birmingham last weekend…
Louis van Gaal will depart Bayern Munich at the end of the season, the club have confirmed.
The Dutchman has come in for criticism following Bayern's weekend defeat at Hannover, which followed a home defeat to league leaders Borussia Dortmund and a German Cup exit to Schalke.
Poor results have seen the defending champions slip to fifth place in the league heading into the latter stages of the campaign, with their hopes of silverware this season resting on the Champions League.
Bayern won the first leg of their last-16 tie with holders' Inter 1-0 and are set to meet the Nerazzurri again at the Allianz Arena on March 15th.
Although he will remain in charge until the end of the season, Van Gaal's current deal, which is due to expire next summer, will be dissolved 12 months early by the club.
Bayern have cited the reason for his exit as "a difference in opinion about the strategic direction of the club", adding that there were still certain "minimum achievements" to be reached this season.
The club's board met with 59-year-old Van Gaal on Monday morning and they appear to have come to a mutual decision to go their separate ways.
It was initially thought he would be shown the door on Sunday only for reports to emerge in Germany suggesting the club had made a U-turn due to a lack of viable replacements.
"I have always had the support of my board. They decide whether to withdraw this support, not me," van Gaal said after Saturday's defeat, which put them 19 points adrift of leaders Dortmund and five points behind third-placed Hannover
Possible successors touted by the German press include Turkey coach and former Chelsea manager Guus Hiddink, former Ajax, Hamburg and Tottenham boss Martin Jol and a return to Munich for Bayer Leverkusen's Jupp Heynckes.
West Brom are now a best price 7/4 for relegation after their superb 3-1 win at Birmingham last weekend…
Take advantage of the sales by saving up to 36% on a subscription to World Soccer