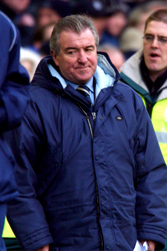 Next Newcastle Manager – The midweek money for Terry Venables seems to have gone astray after the former England boss has ruled himself out.
Terry Venables has decided to turn down the opportunity to become the caretaker manager of Newcastle United.
The Magpies are looking for an interim manager to replace the departed Kevin Keegan as owner Mike Ashley looks to sell the club.
Ashley was only able to guarantee Venables a job whilst he still owns the club and it is this uncertainty that saw the former England chief turn down the approach from Tyneside.
"There is one reason and one reason alone why I've turned down the chance to take temporary charge at Newcastle – time," Venables told The Sun.
"Newcastle United means too much to too many people to take the job on a short-term basis.
"It demands total commitment and dedication from a manager who is prepared to throw himself heart and soul into the club.
"I didn't want to move up to Tyneside and find myself surplus to requirements before I'd even had the chance to get my teeth into the challenge.
"The way the job was offered to me meant that I might be working at St James' Park for two months, two years or two weeks. There was far too much uncertainty involved.
"When I take on a job I need to know exactly what my goals and targets are.
"It would have been impossible to achieve any aims in the conditions they wanted me to work under.
"I was ready and willing to give it a real go but I was never offered the chance to do that.
"All they could guarantee was that I'd be in a job until Mike Ashley sells the club – whenever that might be.
"So as flattered and honoured as I was to be approached by Newcastle, in the end it wasn't that difficult a decision for me to decline their offer."
Supporters suffered
Londoner, Venables, said that his decision had nothing to do with the recent backlash among the club's supporters over the current Newcastle hierarchy being based in the capital.
"The Newcastle supporters have suffered more than enough in recent years. I didn't want them to think I'd gone up there just to pocket a few quid from Mike Ashley and then wave 'cheerio' a couple of weeks later," he added.
"But I want to make it absolutely clear that my decision had nothing to do with a fear of a fans' backlash.
"I know only too well that many of the Newcastle supporters have been protesting about the so-called 'Cockney Mafia' running their club.
"But I honestly don't believe it would have been an issue for me. All my work would have been done in the dressing room, not the boardroom. I understand the Geordies are proud of their city and their club – and rightly so.
"But I'm sure they will warm to any manager who gives his total commitment to their team and starts winning games."
He also revealed that it was Newcastle who approached him about the possibility of filling the vacancy.
"Let me make it clear it was Newcastle who approached me about the job rather than the other way around," he continued.
"It was a complete shock when I received the telephone call this week asking me to meet them.
"I met Dennis Wise, Tony Jimenez and Derek Llambias on Wednesday and we had a long chat about what the job entailed and what they expected from me.
"But Mike Ashley wasn't there and it was made very clear to me that it is the owner's intention to sell control of the club sooner rather than later.
"And we all know that whenever a new owner takes control of a club, the first thing he does is appoint his own directors and his own manager.
"We never discussed money, contracts or any sort of payment. I told them that I first needed to decide if I wanted the job. We could settle the financial side of things at a later date. I promised I'd give them my decision within 24 hours and thought about it long and hard over Wednesday night.
"But deep down inside I always knew it wasn't the right job at the right time for me. And I don't think the Newcastle guys were that surprised when I gave them my answer yesterday. But just because the conditions weren't right for me doesn't mean they won't be right for someone else."
Next Newcastle Manager – The midweek money for Terry Venables seems to have gone astray after the former England boss has ruled himself out.