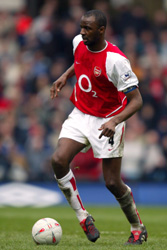 Arsenal skipper Patrick Vieira has denied that he threatened Gary Neville before the 4-2 defeat against Manchester United.
Vieira was accused by United skipepr Roy Keane of trying to intimidate Neville as the two teams lined up in the tunnel before the game.
The Frenchman then clashed with Roy Keane and referee Graham Poll had to separate the pair.
"I didn't threaten anybody. They are big enough players to handle themselves," said Vieira.
"I had a talk with Roy Keane and that's it. Gary Neville is a big lad, he can handle himself.
"They just played better than us and deserved to win."
Neville confirmed that there had been incidents before the game.
"There were a couple of things that did happen before the game which disappoint you," he said.
"Especially from players of that calibre, but it's a tough game and we've been around a long time."
Neville admitted that he had not enjoyed the match.
"I thought it was a horrible game in the first half, and it was not much better in the second," he said.
"There is no way that should have happened in a football match."
After the match, Keane accused Vieira of attempting to intimidate his team mate.
"Patrick Vieira is 6ft 4in and having a go at Gary Neville. So I said, 'have a go at me'," Keane said.
"If he wants to intimidate our players and thinks that Gary Neville is an easy target, I'm not having it."
Manchester United manager Sir Alex Ferguson added: "Vieira was well wound up for it.
"I've heard different stories. Patrick Vieira has apparently threatened some of our players and things like that."