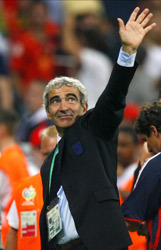 Raymond Domenech has called for one last effort from his team after they reached the World Cup final with a 1-0 semi-final victory over Portugal.
"What matters now is to go all the way. We can't be content with that," the French coach said.
"We must recuperate and start focusing. We must give all we have in the final to make sure we have no regrets."
"We are very proud to have reached the final. It was a difficult match, but the objective has been obtained. That (objective) was July 9, but now we have to win the final.
"Everybody wants to win the final. That is our true objective."
Domenech believes France and Italy deserve their place in the final.
"There were two real deeds in this cup. Firstly (France) against Brazil and Italy won over the Germans in Dortmund, and they did it with style," he said.
Domenech refused to criticise the conduct of the Portugal side – who did not endear themselves to the crowd with their propensity to got to ground after the slightest contact.
"I do not govern the behaviour, decision or choices of Mr Scolari. That's not on my mind," said Domenech.
"I look at France and give credit to the Portuguese team. They played well but there's one winner.
"I do not like to comment on another coach's team. I do not like other coaches to make comments on my team."
Zinedine Zidane, 34, scored from the penalty spot in the first half after Ricardo Carvalho had fouled Thierry Henry.
The captain, who will retire after the final, admitted reaching Sunday's final was a dream come true.
"Now that we are here, after all the effort we have made, we will try and bring it home," Zinedine Zidane said.
"It won't be easy, it will be hard, but we have the weapons to do it and we have the will to do it."
Domenech admitted that Zidane's experience had proved invaluable.
"It is an advantage having this experience, having players who know what it takes to go to the end," Domenech said.
Henry was a member of the 1998 World Cup-winning France squad, although he did not feature in the final.
"We defended like lions," said the striker.
"The way we defended, everyone, you could see that the team had desire and commitment and everything, plus a lot of technique."