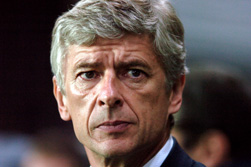 Compare football odds from over 25 bookmakers and claim £500+ in Free Bets. Click here for offer!
Arsenal boss Arsene Wenger has admitted that it is his mistakes have left the club with nothing to play for this season.
"Once we knew we were in the final of the Carling Cup we should have sacrificed the FA Cup because in the end it caught up with us," he said.
"It was a mistake on my part. In future our priority should be to qualify from the Champions League group – and then take it from there."
The Frenchman has been disappointed by Arsenal's elimination from all competitions and particulalry by early elimination from Europe – where Arsenal went out to PSV in the last 16.
"This is the first time in my time here that we do not have anything to look forward to," he said.
"We have had years where we do not win any trophies, but we have always had a cup final or a title race to come."
Wenger says that next season he will prioritise which might mean that the FA Cup is no longer a priority for the Gunners.
He said: "The FA Cup is a competition we love but last year when we went out early, we reached the final of the Champions League.
"This season we had two replays in the FA Cup, one just before the PSV Champions League tie and one right in between that and the next.
"We had already given a lot, playing 17 games in December and January. Also, we had no possibility to rotate the side because we had many injuries and then all the suspensions.
"So I think it was a mistake on my part. When we drew Blackburn at home we didn't think we would go to a replay.
"When you have 60,000 fans in your own stadium you can never say you will sacrifice the game. But the replay? Perhaps I should have sacrificed it."
Wenger also revealed that from next season he will "not play senior players in the Carling Cup" to ensure the likes of Kolo Toure, Cesc Fabregas and Emmanuel Adebayor get the chance to rest.
Fabregas, who represented Spain last summer at the World Cup finals, has played 45 games this season and admits he is running on empty at the moment.
He said: "I am looking forward to the summer – I am counting the days. I need one summer to rest."
Compare football odds from over 25 bookmakers and claim £500+ in Free Bets. Click here for offer!