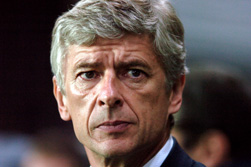 Arsenal manager Arsene Wenger has re-opened his feud with Chelsea boss Jose Mourinho.
The pair have been sniping at each other all week after Mourinho accused Wenger of being "a voyeur".
Now the Gunners coach has said: "I will still give my opinion about Chelsea if I want to. Nothing will stop me doing that. We are not in a dictatorship.
"It was a personal attack (by Mourinho) and it was not involved with football."
Mourinho tried to defuse the row between the pair yesterday by claiming that his remarks were not inteneded to hurt Wenger, but admitted he attacked the Frenchman after Chelsea compiled a 120-page dossier containing his comments about the Premiership champions.
Wenger declared on Friday that he was "amazed" such a dossier existed.
"I'm quite amazed. We have no file about anybody," Wenger said.
Mourinho has offered to apologise if Wenger does the same but the Frenchman was in no mood for conciliation.
"For me, the story is now over. I don't want to speak about it any more," Wenger told the London Evening Standard.
"I will take action if I want to take action. I have not decided yet.
"If people say my team plays bad football or they don't like it I can take that. When I speak sometimes, I can say words that somebody else does not like, but I have never meant to offend anybody.
"I repeat what I said this week – the comments (by Mourinho on Monday) were completely disconnected from reality.
"I don't know where they came from, but it did not stop me from sleeping, not at all." Wenger originally dismissed Mourinho's comments as "out of order" but the Chelsea coach stands by his opinion.
Subscribe to World Soccer – The essential football magazine