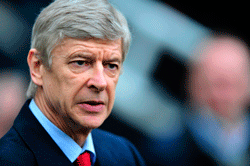 Man United are now a best price 11/10 for the FA Cup after drawing Man City in the semi-finals…
Arsene Wenger is confident of his players' winning mentality despite seeing Arsenal eliminated from a third competitions in the space of a fortnight.
Arsenal lost to Birmingham in the Carling Cup final at the end of February, before losing to Barcelona in the Champions League and Manchester United in the FA Cup on Saturday.
The losses mean the Gunners are now only in contention for the Premier League and it has been suggested that Wenger's squad is lacking the steel required to win trophies.
Arsenal lie in second place in the league, three points behind leaders United with a game in hand.
Asked about his players' mental strength, though, Wenger retorted: "We still have it. I don't question that.
"It's been very difficult for the players, but they have never shown any sign of weakness mentally. Even on Saturday they have put absolutely every effort in and I can only be proud of how much they did fight.
"The only thing I can say is that I'm ready to give absolutely everything to win the title. Let's hope, and I'm confident we will, but we need now to work to recover.
"I believe we can do it. It's a good test now for us to show we can regroup, show mental strength, togetherness and respond quickly.
"We will have this kind of questioning for the next two, three weeks and we have to show we have an answer to that. We are used to being questioned – and we have to show we are strong enough to deal with that.
"We have a week without midweek games. That's the first time for a long, long time.
"We have steel. I don't question that. We played Wednesday against Leyton Orient, Saturday against Sunderland, Tuesday against Barcelona with 10 men and now against Man United.
"It's been very difficult for the players, but the players have never shown any sign of weakness mentally."
Wenger believes that, even if Arsenal do fail to win the title, they will still have surpassed expectations this season.
"If I listened to everybody then it is a miracle that we are playing for the title with ten games to go," he said.
"Nobody in England believed we could even fight for the top four. The fact we are in the position we are in, I think, deserves a lot of credit."
Arsenal face United on May in what has already been labelled a title showdown, but Wenger said that game would be irrelevant if Arsenal failed to win their games in the interim.
"I believe it will strengthen our resolve at home," he added. "The Man United game is only important if we win our games before that.
"I'm convinced if that game is decisive we will have a good chance to do it at home. But before that it's very important we respond very quickly. We have West Brom on Saturday. I think now what is most important for us is the next game."
Man United are now a best price 11/10 for the FA Cup after drawing Man City in the semi-finals…
Take advantage of the sales by saving up to 36% on a subscription to World Soccer