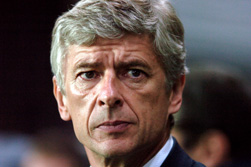 Arsenal manager Arsene Wenger has refused to rule out an overhaul of Arsenal's squad next season after Bayern Munich knocked them out of the Champions League.
"Will I rebuild the squad this summer? It's difficult to say now. I don't want to criticise my players," said Wenger.
"We gave absolutely everything and lost to a very good side. We can't say we're good enough to win the European Cup as we haven't won it – facts are facts."
Wenger has been promised funds to strengthen the squad in the summer.
The Frenchman admittted that the tie had ben lost in Munich where Aresnal went down 3-1. Despiote Thierry Henry securing a 1-0 win at Highbury, Arsenal never really threatened to overcome the two-goal deficit.
"We lost it in Bayern in the way we gave away the goals away from home," Wenger added. "A 1-0 home win is a good, but our display in Germany cost us.
"I feel it was a very balanced game and both teams played well. It was close."
"We can congratulate the team for a fantastic effort.
"We scored at the right moment of the game and got a feeling that if you keep a clean sheet now you can score a goal.
"There are still some very young players out there. We had a good game against a good side and the difference was small but we just didn't do enough."
Wenger acknowledged his team had not made the progress he had hoped for in the competition.
"I feel that we cannot say that we have progressed," Wenger continued. "I feel you have seen good young players who have a good future in that competition.
"There are many good teams in Europe."
"I don't know. We are not the only team in Europe who fights to win the Champions League. At this club it's never been done.
"Do you really think there is a secret? You look across Europe and there are bigger clubs than us. Barcelona have won it once in their history …. I cannot say that we are good enough to win it because we haven't won it. What is good is there is room for improvement."