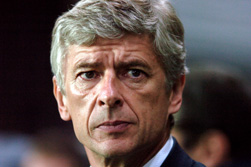 Arsenal boss Arsene Wenger has continued his criticism of his Manchester United counterpart claiming Sir Alex Ferguson has lost "a lot of credibility" during the pair's latest high-profile row.
The Arsenal manager called on Monday for Ferguson to be put on a disrepute charge following remarks he made in a weekend interview.
Ferguson said Wenger's conduct in the wake of United's 2-0 win over Arsenal in October had been "a disgrace".
Now Wenger has told French television station TPS: "Ferguson's out of order. He has lost all sense of reality."
"He is going out looking for a confrontation, then asking the person he is confronting to apologise.
"He's pushed the cork in a bit far this time and lost a lot of credibility by saying what he said."
The Gunners chief also used a conversation about video replays in football as an excuse to have a dig at United.
"We need to introduce video replays as quickly as possible," said Wenger.
"If you take the example of Manchester United, they would be in mid-table now if officials had the benefit of video replays."
Wenger's latest comments come after he initially refused to respond to Ferguson's remarks, saying only: "I will never answer any questions any more about this man."
Ferguson told The Independent: "In the tunnel Wenger was criticising my players, calling them cheats, so I told him to leave them alone and behave himself.
"He ran at me with hands raised saying 'what do you want to do about it?'
"To not apologise for the behaviour of the players to another manager is unthinkable. It's a disgrace, but I don't expect Wenger to ever apologise, he's that type of person."
The latest verbal exchanges may force the FA to act before the clubs next meet on February 1. There are moves afoot to summon David Dein and David Gill, chief executives of Arsenal and Manchester United respectively, to a meeeting at FA headquarters in an attempt to reestablish cordial relations between the two clubs.