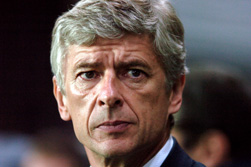 Arsenal manager Arsene Wenger has reacted angrily to comments made by Manchester United boss Sir Alex Ferguson.
Wenger denied Ferguson's claim that he behaved in an aggressive manner towards his United counterpart after United's 2-0 Premiership win at Old Trafford in October.
"I've always been consistent with that story and told you nothing happened," said Wenger.
"One thing's very simple. I will never answer any question any more about this man.
"If he has to talk, he talks. If he wants to make a newspaper article, he makes a newspaper article.
"He doesn't interest me and doesn't matter to me at all. I will never answer to any provocation from him any more."
Ferguson had earlier said he did not expect Wenger "to ever apologise" for his players' behaviour following the alleged food fight in the tunnel at Old Trafford.
"In the tunnel Wenger was criticising my players, calling them cheats, so I told him to leave them alone and behave himself," Ferguson told the Independent.
"He ran at me with hands raised saying 'what do you want to do about it?'
"To not apologise for the behaviour of the players to another manager is unthinkable. It's a disgrace, but I don't expect Wenger to ever apologise, he's that type of person."
"In the ensuing weeks all you got was a diatribe from Arsenal about being kicked off the pitch and all that nonsense. Gill phoned Dein three times to complain but nothing was done.
"The return is on 1 February and they will come out with another diatribe.
"David Gill and I feel we should set the record straight because Arsenal have not written to us to apologise and we would not let that happen here.
"Wenger is always complaining the match was not played in the right spirit," he added.
"They are the worst losers of all time, they don't know how to lose. Maybe it is just Manchester United, they don't lose many games to other teams.
"We tend to forget the worst disciplinary record of all time was Arsenal's up until last season. In fairness it has improved and now they are seen as paragons of virtue.
"But to Wenger it never happens, it is all some dream or nightmare."
Wenger retorted: "He does what he does in England anyway. Go abroad one day and see how it is."
Meanwhile, League Managers Association chief executive John Barnwell is hopeful that the pair will resolve their differences.
"You do get, from time to time, in a very emotional game, strong personalities, that's why they're managers, and a difference of opinion, and I think this has happened with Alex and with Arsene over too long a period," he said on Sky Sports News.
"It's past history, it should have been dealt with, but it's now reared its head again.
"Certainly, if we thought there was something which would pour some water and less fuel on the fire then we would do that."