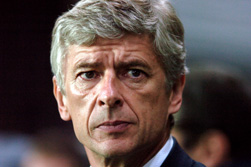 Are you a football fan? Answer a few footy questions and be in the running for a £50 Free Bet. Click here!
Arsene Wenger, whose Arsenal team currently top the Premier League, has given an insight into his methods of management.
Speaking at a dinner organised by the French Chamber of Commerce in Great Britain, Wenger suggested that the key to long-term success in any field was to continue evolving and not be afraid to change a winning formula.
"Success is paralysing," said Wenger. "If you don't change anything, three years later you are suddenly not successful and you don't know why. You want to repeat quality but also to improve quality, so you have to change. When you lose there's also a resistance to change but when you are a manager you can't be scared to put pressure on and to take a risk by changing. You can't be scared of change."
Wenger has created and dismantled three title-winning teams at Arsenal in 1998, 2002 and the unbeaten side of 2004. However, rather than rest on his laurels, the Frenchman has continued to develop his teams, with the departure of Thierry Henry last summer representing the final symbolic break with the 'Invincible' side.
"The most talented player I have worked with is certainly Thierry Henry," said Wenger. "He had pace, power, skill, intelligence.
"He had maybe some other problems but he was gifted as a footballer. If I let Thierry Henry go it is because I was convinced at the moment of the decision that we will be successful. When you make decisions you know you have to win football games.
"The basic quality of being a manager – and I always say it when a young coach starts – is to trust people. The second part is resistance to stress. Don't be inhibited. On the bench you can be scared to make an atrocious decision. It is better you make a quick decision than to defer it, to wait and make no decision because you know you can't get it back. So you have to resist stress and always be able to innovate."
Wenger has placed the accent on youth in his current Arsenal side, believing that he is capable of moulding players provided he gets to work with them early enough in their career.
"There has been research done by psychologists which explains that at 18 to 20 years old a person's motivation is set, and after that you cannot change them," he continued.
"It is about the environment they are in at that age and how they feel, but if somebody is not motivated you cannot instil it in them later.
"The cycle of life is like a [bell] curve. It goes up like this and then it goes down like this," he said.
"Most of the time in football, clubs pay the maximum wages to players at 29, 30 years old, when they are on their way down. Here we like to buy players when they are on their way up. This is the most exciting squad [I have coached at Arsenal] because they have all been educated by us.
"When I first came the team was inherited and several of the players were over 30 years old. This team came not just from me but from the whole club. This squad is the work of the whole staff. When they become big stars it is much less exciting."
Wenger also admitted that he continues to strive for perfection, believing that the motivation to improve lies at the heart of all the best teams.
"In football my ambition was always to go a whole season without losing," he said, recalling his statement in the press that his 2002 Double winners could achieve exactly that the following season.
"When you win and [then] you have lost a game you think: 'Maybe we could have done better there.' But when you do not lose any games you do not have those questions.
"We lost the title in 2003 but we had done the Double the year before. I asked the players after the summer break what had gone wrong. They said, 'It's because of you, boss.' I said, yes, OK, but why do you really think you lost. They said again, 'No, boss, it was because of you. You put so much pressure on us by saying we would go the whole season unbeaten.' I said to them all right then, but I'm going to say it again. You can go through the whole season without losing. I believe in you.
"Normally when you win the title the team loses the next match. It happens every year. But that year [2004] we had won the title with some games to go and when we played as champions they made sure they did not lose. It meant the seed had been planted in their minds. It took a while to come but in the end they achieved what they didn't think was possible."
Are you a football fan? Answer a few footy questions and be in the running for a £50 Free Bet. Click here!