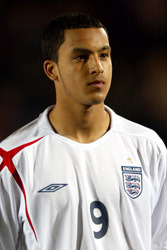 Arsenal boss Arsene Wenger believes England mananager Sven-Goran Eriksson should give Theo Walcott a World Cup run.
"It seems he'll come on when they don't score," Wenger said of the 17-year-old.
"I don't think the whole World Cup can rely on Theo but he can certainly come on and make a difference – why not start him in a game or two?
"He's an interesting weapon because he can play wide and centrally. Once he's in front of the defender, nobody can catch him. He's a fantastic prospect."
Walcott was included in England's 23-man World Cup squad despite never having played for Arsenal.
His selection caused widespread surprise and Wenger admitted he too was taken aback by the decision to include an untried player.
"I was surprised when he was named because he has no real experience, but it was a pleasant surprise because it will mature him," Wenger added.
"He'll be in touch with the pressure of the tournament and he will have a bigger responsibility.
"The reason I did not use him this season was that I was never in a situation where I could afford to take a risk.
"Every game we were in desperate need for points, either in the league or the Champions League, so I went more for experienced players.
"There will be high pressure at the World Cup because there's more demands from the media and the fans. But I am sure he can cope with it: he has a quiet personality, but a strong personality.
"He's still a bit in shock but at that age you don't really understand how good you are.
"Now someone is telling him that he is one of the best players in the country and he is ready to go to the World Cup, which can only make him better."