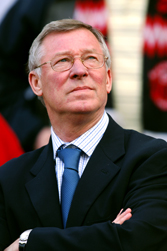 As Manchester United prepare to face Chelsea, United boss Sir Alex Ferguson insists that his team is the equal of newly-crowned Premier League champions.
"There is nothing between the sides," said Ferguson.
"Leagues can be decided on incidents like the penalty-kick decisions at Stamford Bridge and Old Trafford.
"And that is the thin dividing line we have got."
United's manager also warned his counterpart Jose Mourinho that United, who are currently 17 points behind the champions, would be chasing Chelsea hard next term.
"Chelsea will know fine well that we will be one of their challengers next year and they will be one of ours," he stated. "It will be a hard league.
"Liverpool are improving and Spurs are improving and with Arsenal, Chelsea and ourselves it's going to be fantastic."
But Ferguson did give Mourinho praise for what he has achievedc in his foirst 12 months in charge at Stamford Bridge.
"I think he has enjoyed it," he added. "It's not an easy league to get involved in for your first year in English football.
"The Premier division is very difficult so I think he has deserved his title. They have done very, very well and they are a very good, powerful team.
"I think you're going to see a very relaxed Chelsea team playing against us on Tuesday night.
"They have won the league and we are looking forward to a cup final so we want to be in good form ourselves, so it should be a terrific match."